Possibility of end to Federal Reserve stimulus drives volatility in equity markets.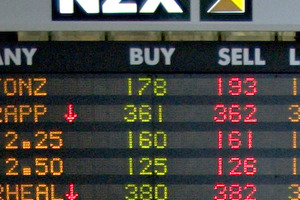 New Zealand shares fell yesterday, pushing the NZX 50 to a three-month low, as the prospect of an end to Federal Reserve stimulus continued to drive volatility in equity markets. Diligent Board Member Services and Sky Network Television extended their slide.
The NZX 50 fell 35.45 points, or 0.8 per cent, to 4363.07.
Within the index, 35 stocks fell, 11 rose and four were unchanged. Turnover was $195 million.
Diligent, whose software helps company directors manage their information flows, dropped 7.2 per cent to $7.01. On Thursday, the company said it had recognised some revenue earlier than it should have under US accounting standards, the latest in a series of missteps.
Hallenstein Glasson Holdings fell 4.1 per cent to $4.74, leading most retailers lower on relatively low volumes. Pumpkin Patch, the children's clothing chain, dropped 4 per cent to 95c. Restaurant Brands fell 3.9 per cent to $2.70, Warehouse Group declined 2.9 per cent to $3.67 and Kathmandu fell 2.4 per cent to $2.48.
Nuplex Industries fell 3.4 per cent to $2.85 and Steel & Tube Holdings which supplies building materials to the construction industry, fell 3.2 per cent to $2.42.
"The Fed's QE settings have generated a lot of speculative positions including in equity markets," said Andrew Kelleher, a broker at ASB Securities.
Still, the fact that Fed chairman Ben Bernanke can contemplate the end to the stimulus means the US economy is improving and in the long-term equity investors can be more comfortable, he said.
Sky TV dropped 3.2 per cent to $5.08, extending its slide since an online rival emerged with the rights to English Premier League football, underlining the capacity of companies to win market share in the pay-per-view market.
OceanaGold, the operator of the Macraes goldfield, fell 4.4 per cent to $1.53 as spot gold continued its slide.
Chorus rose 1.3 per cent to $2.39.
Telecom gained 0.4 per cent to $2.27 and Fletcher Building slipped 0.6 per cent to $8.10. MightyRiverPower declined 2.7 per cent to $2.20.