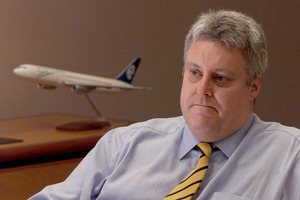 Gary Toomey, who was at the helm of Air New Zealand when it nearly collapsed in 2001, has a job heading India's second-biggest airline, Jet Airways.
Toomey is an Australian whose nine months at Air New Zealand coincided with the collapse of Ansett Australia - an ill-fated investment made before he took over - and the resulting near-collapse of this country's airline.
The Government bailed it out with close to $1 billion and Toomey quit as the airline cut routes and laid off hundreds of staff.
Before he quit Toomey said that buying Ansett was "the most stupid mistake we made" and his public criticism of Air New Zealand's major shareholders, Brierley Investments and Singapore Airlines, during the last round of restructuring negotiations made him unpopular.
Controversy over his repeated pledges that Air New Zealand had $1 billion cash to keep Ansett operating - weeks before it collapsed - also severely affected his credibility and he had security guards posted to protect his home after hate mail and death threats following the Ansett closure.
From 2009 to 2012 he worked at Airlines Papua New Guinea.
Before Air New Zealand he had served in various positions in Australian carrier Qantas, including as a director, deputy chief executive and chief financial officer.
The 58-year-old faces several challenges as he takes over at the indebted airline, which last month reported a quarterly loss and is trying bed down a deal with Gulf airline Etihad. Etihad bought a 24 per cent stake in Jet Airways two months ago.
Toomey said the fast-growing Indian aviation market "offered significant potential for Jet Airways not only within India, but beyond, through new or improved international connections".
Jet Airways last month posted a wider-than-estimated fourth-quarter loss of US$85 million because of higher aircraft lease costs, high fuel prices, a weak rupee against the US dollar, other exceptional items and a one-time expense.
The airline has a fleet of 100 aircraft and employs close to 14,000 staff.