Airline shuns traditional alliances with growth formula for big new planes flying through its Dubai hub.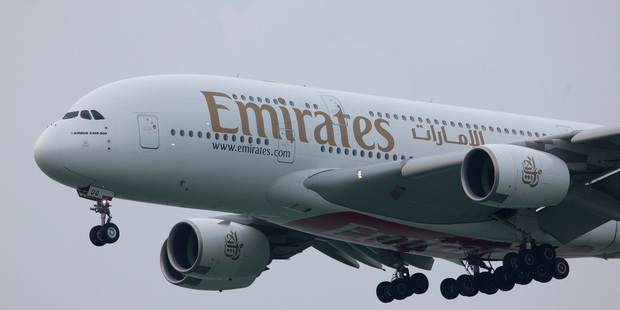 Emirates president Tim Clark is not known for holding back, whether it be buying planes, building routes or taking a swipe at the opposition.
The Brit who has been at Emirates since its launch in 1985 has helped build and lead the Dubai-based airline into an aviation super power, the biggest long-haul carrier in the world with a wide body fleet just over 200-strong and almost that number again on order.
Over breakfast in Cape Town with a small group of journalists at the aviation industry's annual gathering, Clark was living up to his reputation of forthright talking, all delivered with good humour.
He has a hands-on interest in all parts of the business - including seat design and television size - and loves talking the big picture for the state-owned airline. It flies to 134 destinations and Clark would like to double that.
"Remember we don't always serve primary cities, we are into second-level and third-level airports," he said.
"Demand is hard to predict, we are not masters. Because we find it easy to make changes - if we find we are running out of aeroplanes we'll just go and order some more."
Clark carved out a reputation for route planning for Bahrain's Gulf Air and for his first 18 years at Emirates was the head of airline planning.
The formula for rapid growth was simple - big new planes flying through the Dubai hub where the airline bases its crew and support infrastructure to keep costs down, while offering competitively priced economy seats and bells and whistles in the premium cabins, where all airlines make their real money.
Emirates has also shunned traditional alliances - Star, OneWorld and SkyTeam - which allow airlines to put their passengers on each other's planes in parts of the world they don't fly.
By steering its aggressive course of growth - flying to nearly all parts of the world itself - Emirates has made itself unpopular with fellow airlines and nations, especially in Europe , which have wanted to protect their carriers and blocked or delayed landing rights.
Clark noted a thawing in the relationship with Europe.
"I think it's a recognition that we are here to stay and we are growing our business successfully at a time in the last five years when the world has been in global recession."
The airline was adding new routes and buying new aircraft at a time when the industry was consolidating or "going south", although he is optimistic about prospects for most airlines with oil prices he predicts will be between US$80 ($101) and US$100 a barrel this year.
Other Gulf carriers, Qatar Airways and Etihad, are growing quickly based on models similar to Emirates.
Clark said there was now recognition the Gulf carriers were a force to be dealt with. "It is something that cannot be ignored, the notion they could continue to defy our existence and make life difficult for us has a track record of failure."
In April Emirates and Qantas began a close partnership to co-operate on routes to Europe, which the Australian airline hopes will turn around its struggling international business while the Gulf carrier gets greater access to this part of the world and, says Clark, more international respectability. "The arrangement with Qantas has a qualitative effect on thinking and how we are regarded," he said.
Emirates' growth is being crimped by capacity at Dubai Airport. The hub is forecast to reach 90 million passengers a year, three years ahead of a 2020 target, as it attracts more through traffic and Dubai as a destination recovers to pre-global financial crisis levels.
Air traffic management and restricted runway space were problems posing a "potential flat line" for growth.
Clark on the A380
Emirates remains a big fan of the double-decker Airbus A380 despite wing crack problems and few other airlines embracing the aircraft.
The Gulf airline is the biggest A380 operator with 34 of the aircraft and 56 more on order.
Tim Clark said passengers still went out of their way to travel on the plane, which Emirates had stuck with as demand sagged during the global financial crisis.
He said profitability was astounding with three classes, particularly when airlines laid on the trappings for premium passengers.
Emirates has not opted for Boeing's 787 Dreamliner which Clark said would soon enough become the "ubiquitous workhorse" of the airline industry.
The A380 wing-part failures have led to cracks and Emirates' planes have entered a cycle of permanent repairs for the in-service fleet with two aircraft grounded and three more to follow.
Clark on 20-hour flights
Emirates is planning for 20-hour ultra-long haul flights and is working with Boeing on a new model of 777, the 777X.
Tim Clark said flights from Sydney to Rome were on the horizon but the challenge was to ensure passengers were comfortable enough during the journey.
As aircraft got "better legs" it was important to get the cabin humidity right and get the right seats, entertainment systems, convivial areas such as bars on the Airbus A380 to make the journey tolerable. "You've got to make sure you've got sufficient bits and pieces in there to deal with it" while still keeping the bottom line positive, he said.
Light colour palettes and the use of mood lighting was necessary to "alleviate the stress and boredom".
The 777 upgrade would feature a new wing and engines and larger windows.
Airline opts for caution on move into transpacific flights
Emirates president Tim Clark says flying across the Pacific from Australasia is a possibility although the airline did not want to target other carriers.
"This is Air New Zealand and Qantas territory - we're conscious of [not] upsetting [them] but if I see there is real demand that the incumbents can't service, then probably," Clark said while at the International Air Transport Association annual meeting in Cape Town.
"We're not out to take away from them what they've gone and built over those years, but if there's an opportunity which is an equitable one we would consider it."
The fast growing airline would be particularly wary of upsetting Qantas, with which it started a global partnership in April, but flights across the Pacific would be the final piece in the jigsaw of Emirates' aim of being a truly global airline.
Clark said he was being "deliberately vague" about the timing of such a move, which depended on economic conditions.
"We will wait until demand is strong enough to mount operations without killing everybody else off on the route - that's the plan."
It is also considering flying from Asia to North America.
It flies three times a day out of Auckland and once out of Christchurch to Australia and Dubai. From October it will put on a third Airbus A380 capable of carrying 489 passengers in total.
The airline has been flying to New Zealand for 10 years and although the earthquakes in Christchurch had affected profitability on that route it was now a "solid" one for Emirates.