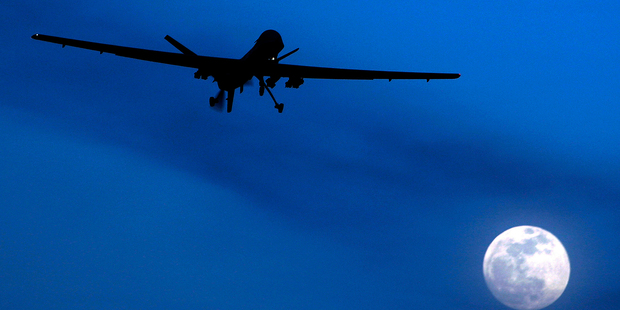 Pizza and geekery go hand in hand. A quick check reveals just how many times a slice of pizza has fuelled some seriously inspired tech. Now Dominos UK is using tech to take pizza boldly where no pizza has gone before by developing a remote controlled drone aircraft that delivers pizza that puts a whole new spin on the term "drone strike".
The concept was demonstrated in the UK with an unmanned "DomiCopter" delivering two pizzas. The idea is as inspired as it is bonkers. Not only would it save delivery people from going out on a wet night to deliver a pizza, but it should also greatly speed up delivery times, which for us means less half cold and soggy pizzas being delivered to our door.
Sporting a large amount of Dominos branding, the DomiCopter prototype can deliver two, large pizzas in a blazing ten minutes, within a four mile radius of any Dominos outlet. The DomiCopter has eight spinning helicopter like rotors and uses the thermal insulation bag that we've seen used with conventional pizza delivery.
Unfortunately, before you begin to dream about slices of Hawaiian falling from heaven, there are obstacles. In this case, it'd be safety related. In New Zealand, any unmanned flying pizza delivery vehicle would need to be certified by the civil aviation authority to make sure it is air worthy (but would it also need to be taste tested?), and there would also most likely be strict laws put in place about where a pizza delivery drone would and would not be able to fly (or if anchovies are an acceptable pizza topping).
According to Domino's general manager, Josh Kilimnik, the idea has some merit: "We are always striving to meet the needs of our customers and ensure their pizzas are delivered within minutes of cooking them, drones could be an excellent way of getting pizza to them faster and servicing more regional or remote areas."
Even cooler still, Kilimnik agrees that a top gun academy could be the best way of earning ones pizza delivery wings: "We offer our staff full training for any tasks they are required to do and if that happened to be drone flying then of course we would offer that too! We would work with agencies such as the CAA to ensure that we reached the top level of compliance and we could potentially launch a Domino's Top Gun training school!"
Domino's UK were also looking at branding the DomniCopter as the Pepperdroney or the Flyin' Hawaiian. Now to deal with that pizza craving. The DomiCopter can be seen here.