Dairy firm chief points to strength of relationship with Chinese partner as one third of sales head to Asian country.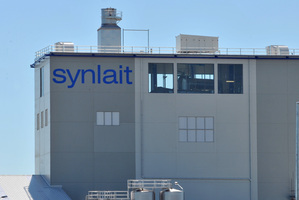 Synlait Milk chief executive John Penno has singled out the high degree of trust his company has established with its major Chinese partner as a key reason for the NZ dairy company's success.
Coming so soon after Sir Henry van der Heyden's gaffe, it is no surprise that Penno's words caused a frisson of excitement at last Thursday's New Zealand China Trade Association business awards where Synlait Milk took top honours, winning both the Supreme Award and the DLA Phillips Fox Award for successful investment with China.
It's a moot point that Synlait's shareholding structure means it is more likely to be sheltered from the kind of CCTV investigative reports which have recently focused negative attention on at least one major New Zealand contract manufacturing player in the infant milk formula market.
But what is interesting about Synlait's subsequent PR release is the way Penno stressed how "a focus on relationships with some of China's leading dairy brands" was key to the company's success.
"Synlait's focus on excellence in all aspects of its operations and a determination to build partnerships with our customers in China and the rest of the world are key elements in our strategy to be one of the world's most trusted and innovative suppliers of milk nutritional products."
Right now one third of Synlait's sales are directed to China. Its first major premium infant milk formula contract was to supply product to Bright Dairy.
But Synlait has since capitalised on its reputation as a "trusted supplier of high quality nutritional products" to win "further contracts to supply infant formula to a number of dairy companies operating in China". In other words, Synlait - just like Fonterra at the big end of town and other contract manufacturers - is manufacturing high-class infant formula products for other dairy companies to market as their brands within China.
Penno said later he hadn't really been aiming a deliberate dig at former Fonterra chairman van der Heyden who had just two days earlier apologised for his "ill-judged" blanket statement about not trusting Chinese.
He was just reflecting on how well Synlait's relationship with its cornerstone shareholder, Bright Dairy and Food Co, had functioned since the Shanghai-listed company took a 51 per cent stake in the NZ company after the global financial crisis.
Synlait had turned to Bright Dairy in 2010 after gun shy New Zealand investors shunned the opportunity to take part in a planned capital-raising after the GFC knocked local confidence.
Neither chairman Graeme Milne, Penno or Bright Dairy board representative David Zheng talked publicly on Thursday evening about the topic du jour as far as Synlait is concerned - the upcoming IPO where NZ investors will again get a chance to buy shares in the company when it lists on the NZX.
Bright will sell-down its stake to below 51 per cent. But the Chinese company will still have a major say in Synlait's future direction through an over-arching shareholders' agreement.
With a prospectus pending later this month, none of the key players can get out and promote the IPO as an investment opportunity.
There are plenty of other NZ-based manufacturers in the contract space.
Notably, Sutton Group, which makes many infant formula brands under contract for sale in China and has run up against issues with one of its customers.
Other companies also make products such as Karicare. Some of these belong to the NZ Infant Formula Exporters Association (NZIFEA). But this grouping notably does not include the major players like Synlait and Fonterra.
The complex nature of the local infant milk formula industry has been in the spotlight in China after the series of CCTV reports which focused on the origins and discrepancies in the labelling of some product.
It shouldn't surprise that CCTV has been focusing on the origins of the infant formula cans that have been commanding such huge premiums on supermarket shelves in China.
Importers have been making huge margins on contract-manufactured products.
NZ's major player - Fonterra - has also been slow to capitalise by directly launching its own brand.
The quality and price of infant milk formula is a major issue in China.
It's not surprising that the Chinese State Council has now made lifting the standards of the Chinese dairy industry - and quality of Chinese-produced infant formula - a priority. This has always been a question of time.
Unfortunately, the CCTV investigative reports conflated the absence of some NZ-sourced products from our domestic supermarket shelves as indicative of "fake" or "counterfeit" products, when the infant formula products were simply produced here by contract manufacturers (standard OEM operations).
On Friday, Chinese Premier Le Keqiang announced a plan to improve the quality of development of the nation's dairy industry and help better establish domestic brands so as to regain consumer confidence.
China wants to bring its own industry to the fore again.
A 2012 AC Nielsen report said that four foreign brands, namely Mead Johnson, Dumex, Wyeth and Abbott, had taken over nearly half of the Chinese market, with sales totaling 38.52 billion yuan ($7.83 billion). It's notable that Fonterra does supply some of these major brands.
The Chinese Government will step up monitoring of foreign infant formula products and "nurture" Chinese-made baby milk brands; standardise the breeding of dairy cattle and increase the scale of the domestic formula industry through restructuring Chinese dairy corporations.
Formula will also be treated as a medicine and a tracking system introduced so products can be traced back to their source. This is fundamentally long overdue.
There will be opportunities for established players like Fonterra and Synlait within the Chinese dairy market.
But there will also be pressure on opportunistic companies seeking to make a quick buck by sourcing product from New Zealand to be more specific with labelling.
But it remains an area crying out for regulatory oversight in case missteps by smaller players screw the market for our champions.