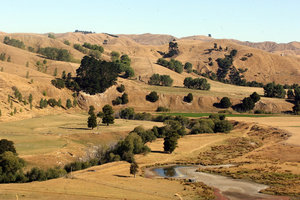 Drought took its toll on the trade balance last month. Exports exceeded imports by $157 million, equivalent to 4 per cent of exports.
But it is normal for April's trade flows to be in the black - and the surpluses had averaged 10 per cent of exports over the previous five Aprils.
The surplus disappointed market expectations of more than $500 million.
The annual trade balance, which had been improving, deteriorated to a deficit of $694 million, $179 million wider than in the year ended March.
Dairy exports, which had shrunk 18 per cent in March on a seasonally adjusted basis in both volume and dollar terms, fell another 7 per cent in volume terms last month.
But higher prices limited the drop in the value of dairy exports to 0.3 per cent.
Meat exports which had jumped 10 per cent in tonnage terms in March reversed that gain last month and fell 7 per cent by value.
"Intensifying drought conditions over late February and March had led farmers to bring forward livestock slaughter, and this saw a strong increase in meat export volumes in March," said ASB economist Christina Leung.
"However, this has proven to be a temporary spike, with meat exports largely falling back to levels seen at the beginning of this year. Reports of a decline in livestock slaughter in recent weeks means further declines in meat export volumes are likely."
The third of the big three export commodities, forest products, saw volumes continue to grow last month, but that was more than offset by weaker prices and in dollar terms forestry exports fell 12.6 per cent, seasonally adjusted, last month.
"We expect forestry export volumes will hold up as New Zealand becomes the largest supplier of logs to China," Leung said.
This year, China has overtaken Australia as New Zealand's largest export market. It was already the largest source of imports.