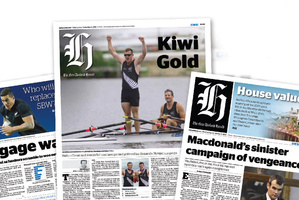 Readership of the Herald has increased again, with a total of 846,000 people a day using Herald content in print or online.
That figure, for the year to March 31, is up 29,000 on the last survey by Nielsen Research.
Online's monthly unique audience rose 32 percent year on year and on our mobile platforms it was up by 69 per cent.
Within the `brand audience' total, the print edition readership rose by an average of 8000 a day in the first three months of the year to 539,000 - turning around a fall of 4.5 per cent in the past year.
The compact weekday New Zealand Herald, Weekend Herald and Herald on Sunday all saw readership gains - as did our magazines, with substantial increases in readers for Canvas, Timeout, Travel and Weekend over the past year and big gains for The Business and Viva in the first quarter of this year.
The Thursday Timeout's 454,000 readership is now the highest for any magazine published within a newspaper nationwide.
Martin Simons, chief executive of APN NZ Media which publishes the Herald titles, said readership growth every day of the week was a "massive success for us" and underlined the "relevance of newspapers within an ever-changing media environment."
In the magazine market, APN's Woman's Weekly has closed the gap on rival Woman's Day to just 2000, at 805,000 and 807,000 readers respectively.
This month the New Zealand Herald was named Canon Newspaper of the Year and nzherald.co.nz the country's best news site.
- APNZ