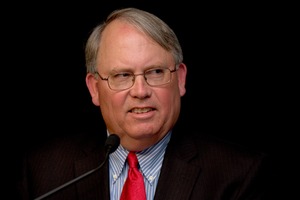 Igloo - a joint venture 51 per cent owned by Sky TV and 49 per cent by Television New Zealand - offers 11 linear pay channels and provides a tuner for the free channels on Freeview.
It includes available downloads from a library of about 1000 titles, costing $4 to $7 each.
Its biggest downside is that it does not record programming, so cannot compete with personal video recorders such as MySky or Freeview, or even TiVo for that matter.
Its role for Sky TV is to cushion the effects of declining new interest in its main service while discouraging competitors from entering the market.
At $199 start-up costs for a set-top box and $25 a month, it is a halfway-house for people who do not want to shell out for a basic Sky package costing $46.12.
The idea is to give subscribers somewhere to go when they leave Sky but can't face the idea of having only a free-to-air television service. They remain on the Sky database, so they can be coaxed back.
Sky chief executive John Fellet defended the slow uptake of Igloo, which was nine months late coming to market on December 3 because of technical problems.
It was originally forecast to reach 50,000 customers by the end of this year and Fellet was quoted in December saying it would be 30,000.
This week Sky told investors it would reach a modest 19,000 after the digital switch-over.
Sky estimates Igloo breaking even when it has 40,000-customers.
The benefits are less apparent for Igloo partner TVNZ, which owns 49 per cent and which has limited control. Igloo's downloading capabilities give TVNZ an entree into digital pay per view television without needing to challenge Sky and its dominance of pay television and content.
But it also limits TVNZ's options for developing pay television services of its own.
The view of Igloo at TVNZ is said to be ambivalent.
The Igloo joint venture was signed by former chief executive Rick Ellis, who was responsible for the ill-fated investment in TiVo which led to a $14.8 million write-off in TVNZ's books.
TVNZ chief executive Kevin Kenrick says Igloo is built on sound logic.
The pay-television market and Sky Television is built on New Zealanders' love of sports and Igloo is for people who are not necessarily interested in sport but want more than Freeview without having to pay for a Sky basic package, Kenrick says.
But inside the TV industry the joint venture was seen as a surrender by the state broadcaster to Sky.
By becoming a junior partner to Sky in a strategic investment that matters little to Sky, critics say the company has turned its back on Freeview and limited its own aspirations.