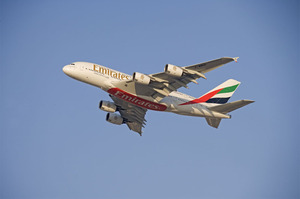 Travellers on Qantas and Emirates are set to benefit from a new alliance between the airlines that analysts see as a "medium" competition risk for Air New Zealand.
The New Zealand Government yesterday approved the deal which allows the two airlines to work together on services and fares and co-operate on the earning and redemption of frequent flyer points and access to airport lounges.
The agreement is part of a global tie up between Emirates and Qantas, whose long-haul airline had been struggling.
Qantas and Emirates will share services across the Tasman, allowing Emirates to offer Queenstown and Wellington as tourist destinations accessible on their network.
In Australia Qantas has said that bookings on its domestic network from Emirates customers have grown seven-fold since the alliance was launched on April 1.
The Qantas-Emirates initiative was launched worldwide with fanfare and special deals, but without New Zealand approval the airlines had been unable to put in place or sell any aspect of it here.
The airlines could potentially develop new routes, with services to Adelaide and Perth possibilities.
Flight Centre's general manager of product, Dave Coombes, said the deal was good news for travellers.
"This will mean better connectivity, reduced travel time and, most importantly, a wider range of travel options giving Kiwis greater flexibility when they're flying internationally."
But Air New Zealand, which has about 40 per cent of the transtasman market, could have its yields affected by the deal, say analysts from Macquarie.
Qantas would be able to use its distribution capability to better sell excess Emirates capacity across the Tasman.
"The alliance should improve the two airlines' competitive positioning given the scope for better combined scheduling, however we do not expect any incremental capacity increases."
Transport Minister Gerry Brownlee said the five-year Master Co-ordination Agreement would bring benefits to airline passengers, exporters and the tourism sector. Fares would be held down by the presence of existing carriers on the route and the threat of entry by new carriers.
Emirates president Tim Clark said the partnership was "game-changing".
He said Emirates had its hub at Dubai and through it Qantas would connect New Zealand to Europe, Britain and northern Africa more smoothly than ever before.