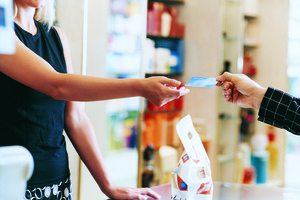 Retail spending has risen from the December quarter's super-heated levels, growing 0.9 per cent in the first three months of the year in dollar terms and 0.5 per cent in volume terms.
Compared with the March quarter last year, sales volumes were up 3.5 per cent.
When petrol stations and car yards are excluded, "core" retail sales were up 0.6 per cent for the quarter and 2.5 per cent for the year, in volume terms.
Bank of New Zealand head of research Stephen Toplis said the number "provided further evidence that the economy is ticking along nicely, thank you", particularly as the December 2012 quarter had been so strong - up 1.9 per cent in volume terms - that a correction might have been expected.
Ten of the 15 categories the statisticians divide retailers into recorded increased sales volumes, although none was large by historical standards.
The biggest volume decline was in clothing and footwear, down 2.4 per cent seasonally adjusted, reflecting a warm start to autumn. In real per capita terms, spending is at a five-year high but still 2.3 per cent below its peak in March 2007.
Compared with the March quarter last year, supermarket and grocery store sales were up just 0.5 per cent in volume terms.
But sales of durable items like furniture, hardware and building supplies, and appliances all posted strong gains. "Rising house sales and the Canterbury rebuild continue to push up sales in these sectors," ASB economist Daniel Smith said.
Sales of electrical and electronic goods were up 5.6 per cent on a year ago, aided by a 9.9 per cent fall in prices. Overall, retail prices rose 0.4 per cent in the quarter, but on an annual basis prices fell 0.4 per cent.
"Deflation such as this means that even modest wage increases go a lot further, which helps support overall demand," Toplis said.
"But it also means that it is very difficult for the central bank to raise interest rates, even when the housing market is going gangbusters. On this point it is worth noting that there is scant evidence yet that house owners are spending their unrealised house price gains. If they start to, this will cause the central bank angst."