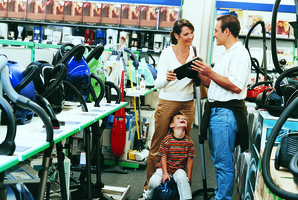 Retail spending rebounded last month from an Easter-related dip in March.
Spending charged to electronic cards - about two-thirds of retail spending - rose 0.6 per cent in April following a 0.4 per cent decline in March. Economists had attributed March's fall to the unusually early timing of Easter this year, which meant one more public holiday in March and one fewer in April.
Core retail spending, which excludes gas stations and car yards, was up 1 per cent, reversing a 0.8 per cent drop in March.
Fuel spending fell 2.4 per cent in April, a month which saw petrol prices fall over 5 per cent. Spending on apparel rose 7.2 per cent, having fallen 6.3 per cent in March. ASB economist Daniel Smith said unseasonably warm weather in March, followed by a much wetter April, had probably delayed many winter clothing purchases.
Spending on consumables such as food and drink, which accounts for about a third of retail spending, fell 1.7 per cent, the second consecutive monthly decline, to be just 0.8 per cent higher than in April last year. But spending on durable items rose 3 per cent, to be 8 per cent up on a year ago.
Infometrics economist Matt Nolan said: "Households are reporting that now is a very good time to buy durable and housing related goods, with the high exchange rate making these products relatively cheap. While income growth has been moderate and credit conditions have improved, it appears that consumers have decided to fund part of their investment in durable products by being more careful with other spending."
Smith said despite steady growth in retail sales, price rises in the sector remained very subdued because of strong competition and the high NZ dollar. "In addition, still-high household debt levels will restrain spending growth and offset some of the wealth impact of rising house prices."