Reports of the death of Wellington have been greatly exaggerated, say business leaders after John Key's comments. However, the city faces challenges such as earthquake strengthening and public service cuts.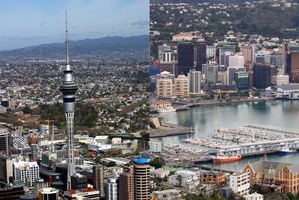 Wellington is a city facing challenges and great competition from Auckland but commentators say it is by no means "dying" as Prime Minister John Key has claimed.
The capital is up against the recession, increasing insurance premiums, a northward drift of businesses to the City of Sails and the majority of long-haul flights leaving from Auckland.
"It was disappointing to hear the Prime Minister say that Wellington was dying," said Raewyn Bleakley, chief executive of the Employers' Chamber of Commerce Central.
"The feeling I'm getting from Wellingtonians now is that we've got to make a strong case that that's not at all happening. It's not a challenge."
Mr Key yesterday backtracked on the comments he made last week to Takapuna business leaders following a gloomy report on the region's economy.
"The reality is even Wellington is dying and we don't know how to turn it around. All you have there is government, Victoria University and Weta Workshop," the Prime Minister was quoted as saying.
But on TV3's Firstline yesterday morning, he said calling Wellington a dying city was extreme, and he should have chosen his words more carefully.
"The city is very vibrant, actually. I think I could have chosen my words better," he said.
Ms Bleakley said Wellingtonians didn't believe their city was dying.
"But we would certainly say that Wellington has some challenges and that the economy has been flatlining in recent times."
The global financial crisis and ensuing economic downturn had hit the city, as it had everywhere else, but Wellington had suffered more in terms of public service retrenchment than other regions. It also faced challenges more unique to the city, such as earthquake strengthening costs as well as rapidly rising insurance premiums because of the quake risks.
Ms Bleakley said New Zealand needed a diverse range of cities and the debate over whether Auckland or Wellington was doing better wasn't the right conversation to be having.
"We need Wellington and Auckland but also the rest of New Zealand to prosper for the country to be a successful economy.
"We think that's possible, but it's about how we do that rather than getting into a comparison."
Wellington needed to unlock its potential and leverage off the advantages it already had.
"Some of those advantages are that we're a compact city, we're strong in the creative and innovative sectors such as IT, screen, film and professional services," Ms Bleakley said.
Ericsson and Contact Centres Australia recently invested in the Wellington region while Trade Me was still doing well. Ms Bleakly said the area still had a really vibrant film industry.
"So we need to look at why we're doing well in those areas and capitalise on that and there's a lot of effort from a number of different organisations doing exactly that right now, including Grow Wellington, Positively Wellington."
Ms Bleakley said there was a strong feeling among Wellington businesses that more long-haul flights in and out of the city were needed and that unity between the nine councils would be helpful.
Lawyer Mai Chen set up an Auckland office of Wellington-based public law firm Chen Palmer in December and moved north to the city herself. She said the advantages of an expanding Auckland outweighed being in a government city.
"Wellington will always remain important because it's a government town but I'm experiencing an Auckland that is making progress at a very fast rate."
Auckland has an increasing conglomeration of businesses, has the biggest proportion of the population and is the gateway to most of the country's immigration.
Ms Chen said Wellington needed to figure out what its raison d'etre was and to work out what it did best and which niche markets it specialised in. Local authorities should also think about what their futures were, the city's organisation and what it could do to reach its maximum potential.
Ms Chen was impressed by how much progress Auckland had made in the two and a half years since the Super City was established.
"Auckland has shifted. It is like no other local authority - it is like a city state. It's resulted in the rest of New Zealand having to adjust to that," she said.
West Auckland born and bred comedian Ewen Gilmour said he prefers Wellington over his hometown.
"Its nightlife is much better, everything is together. Auckland's spread out, everywhere's a $50 cab fare. But once you're in Wellington and you're in your hotel, everything's a walk - though not the zoo, the zoo's a little bit far out."
Mr Gilmour, who is currently in Wellington performing, said it was a "great city" but flying into it never got easy.
"I don't think even pilots get used to it. For me, if I were a business and I needed to move people around all the time, I'd rather have them flying into Auckland than flying into Wellington."
Read more: Auckland vs Wellington: Two sides to the debate