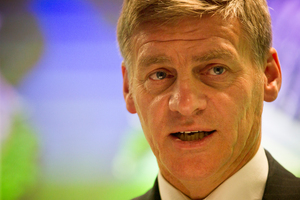 Three-quarters of the way through the Government's financial year its revenue continues to grow steadily while spending has hardly increased at all.
The Crown accounts for the nine months ended March recorded a 5.3 per cent or $2.1 billion increase in tax revenue compared with the same period in the previous fiscal year.
Core Crown expenses were up 2.3 per cent but almost all of the increase - $958 million out of $1.18 billion - was in core Government services and driven, the Treasury explained, by higher than expected earthquake-related spending on wastewater, stormwater and freshwater infrastructure in Canterbury.
Of the three big-ticket items the Government spends money on, the $444 million or 2.8 per cent increase in transfer payments was explained by a $480 million increase in New Zealand Superannuation. Health spending was up $189 million or 1.8 per cent on the same period a year ago, but education spending was flat.
Small increases in other expenditure lines were offset by a $255 million drop in environmental protection, as costs associated with the emissions trading scheme fell, reflecting the collapse in carbon prices from $10 a tonne a year ago to just 9c a tonne in the latest accounts.
On the revenue side the PAYE tax take was up $744 million or 4.7 per cent on the same period last year. Other individuals' tax, which includes investment income, was 18 per cent or $575 million higher driven by recent strength in equity markets, the Treasury suggests.
But the company tax take was 1.5 per cent or $76 million lower than in the same period last year. GST, by contrast, was up by $504 million or 4.3 per cent.
Compared with Treasury's forecasts last December, tax revenue at $41.9 billion is 1.3 per cent ahead of expectations while core Crown spending at $52.2 billion is just 0.1 per cent above forecast.
The operating balance excluding gains and losses (Obegal) at $5 billion is 5.2 per ahead of forecast.
And the operating balance, including net gains, was in surplus by $2.5 billion, around $4.5 billion above the forecast deficit, largely because of significant net investment gains made by the New Zealand Superannuation Fund and ACC ($1.7 billion and $0.7 billion above forecast, respectively), the Treasury said.
The cash deficit - when the retained profits of the State-owned enterprises and Crown entities, the New Zealand Superannuation Fund's surplus and other non-cash items are backed out - is $5.6 billion, or $7.6 billion when capital spending, like the building of new schools, and loans to students and district health boards are included.
The Government's net debt at $58.5 billion is equivalent to 27.9 per cent of gross domestic product and $1.4 billion higher than a year ago.
Finance Minister Bill English said next week's Budget would confirm the Government was on track to surplus in 2014/15.
"Ongoing spending control will allow the Government to build up sufficient surpluses to provide choices around repaying debt and investing more in priority public services," he said.
But Greens co-leader Russel Norman said the Government's singular focus on one measure of economic performance - returning the Budget to surplus - was distracting attention away from its failure to rebalance the economy and create jobs.