People who put money into two frozen Allan Hubbard firms are to get most or all of their capital back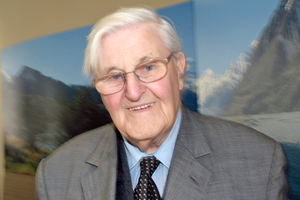 The uncertainty surrounding payouts from Allan Hubbard's crumbled financial empire is clearing with investors from two of his frozen businesses now likely to be repaid.
Investors in Aorangi Securities - one of the late Timaru financier's firms - welcomed news on Thursday that they would be repaid "most, if not all" of their capital.
Aorangi Securities was placed in statutory management in 2010 after an investor complained to the Securities Commission that they had not received a prospectus or investment statement.
The commission believed Aorangi, which was originally a contributory mortgage company, had been operating as a finance company. Many loans were inadequately documented and some appeared to have been made contrary to investors' instructions.
The firm had around 400 investors from Otago and Canterbury who, as at February, had received $14.5 million of the $96 million they were owed.
Further payouts to investors, some of whom are elderly or in financial hardship, hinged on a High Court dispute between the statutory managers and Jean Hubbard (Allan Hubbard's widow) over $60 million of assets.
The outcome of this stoush, which was due to be heard this month, would have decided whether investors received a third of their money or nearly all of it back. But the parties appear to have reached an 11th hour settlement and the hearing is not going ahead, according to Aorangi's statutory managers.
Although terms of the settlement were confidential, statutory managers Graeme McGlinn, Richard Simpson and Trevor Thornton said on Thursday that "most, if not all" of the Aorangi investors' capital would now be returned over time.
A spokesperson for the statutory managers could give no update yesterday on how long this would take and when investors can expect the 85c in the dollar they are still owed.
Investors with another business also in statutory management - Hubbard Management Funds - are in line to get all of their capital back.
HMF's existence was only discovered after the statutory managers had begun investigating Aorangi. An initial report in 2010 said Allan Hubbard made all or most of the investment decisions for the company, including what rate of management fee to charge investors.
HMF has around 300 investors, who believed the fund was worth a total of $89 million. But last year HMF was only valued at $43 million and some investors were unsure about what would be returned to them.
However, in February the statutory managers said all investors would get their capital back and two payouts have been made since then.
"This will come as an enormous relief to investors," the statutory managers said earlier this year.
Some people who took more money out of HMF than they originally put in, will not receive any more payments.
Once investors have all received their capital, the managers will calculate how any surplus funds will be distributed.
In March, the managers said they had realised all HMF's liquid assets and had made "solid progress ... towards the realisation of the remaining assets". Those with Aorangi and HMF have faced a far longer wait than investors from South Canterbury Finance - which Hubbard had managed and built up for decades.
The 30,000 investors in SCF - then New Zealand's biggest finance company - were owed $1.6 billion when it fell into receivership in August 2010.
But because the company was part of the Government's retail deposit guarantee scheme, these investors were paid out at the expense of the taxpayer.
Five former SCF directors and executives face 21 charges laid by the Serious Fraud Office, some of which are related to the entry to the deposit scheme.
While debenture and stock holders were covered by the scheme, investors who held preference shares in SCF were not covered.
These shares were worth $100 million when issued in 2006, but their value had fallen to $15 million by 2010.