First-home buyers moving out to take advantage of low mortgage interest rates.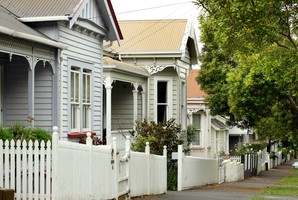 Renters moving into popular central Auckland suburbs have had some relief, with rental costs levelling off or falling slightly.
One reason for the cooling market is people taking advantage of low mortgage interest rates to buy their first home, commentators say.
"It's certainly an improvement on the situation we were seeing about six months ago, where some agencies were keeping pre-approved lists of tenants, and people were taking stuff without looking at it," said Helen O'Sullivan, chief executive of the Real Estate Institute of New Zealand.
The cost of renting a three-bedroom home in trendy central Auckland suburbs such as Ponsonby and Grey Lynn has bucked the city-wide trend and is levelling off or falling, figures from Crockers show.
But rents across the rest of Auckland have increased, particularly in suburbs such as Takapuna, One Tree Hill and Papakura.
The property management company has calculated the average of six-month rolling median prices of new bonds received each month - supplied by the Real Estate Institute and the Department of Building and Housing - for one, two, three and four-bedroom homes over two years.
The area defined as Ponsonby, which encompasses St Marys and Herne Bay, is the most expensive place to rent, the figures show.
However, rents for three-bedroom homes there have fallen from an average of $716 to $702, compared with last year.
In Pt Chevalier/Mt Albert the rental cost of a three-bedroom home has fallen from $533 to $517.
Remuera has seen a drop of 6 per cent with rents falling from an average of $661 to $620.
Property commentator Alistair Helm said one reason for the slowdown would be more renters becoming first-home buyers.
"I think there's a slight power inthe hands of tenants, becausethere is a better supply of property coming on to the market, andnot as much demand.
"First-home buyers have kind of left the market - they bought, who used to be renting. And I think that's created a degree of surplus in the rental market, particularly because those people might well have lived in the inner-city suburbs."
Ms O'Sullivan said the figures only took into account the number and value of new bonds.
However, figures released last month from Trade Me indicated renters had more choice and there was some indication rental price increases had slowed.
That contrasted with the cyclical peak during January and February, when the return of tertiary students made it a very competitive market.