Len Brown sees role for businesses in joining Auckland Council to develop infrastructure.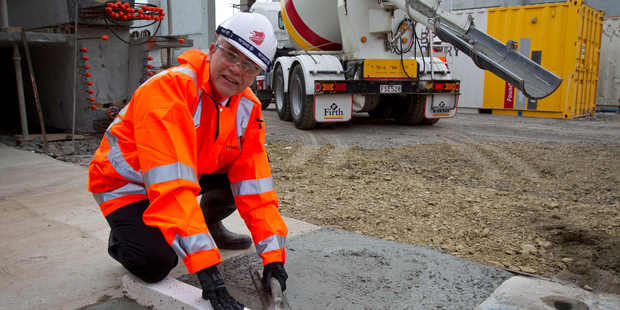 Auckland Mayor Len Brown has commissioned a probe into public private partnerships, holding up the model as a key to unlocking Auckland's growth in a move welcomed by New Zealand's biggest company, Fletcher Building.
In a speech yesterday to a PPP summit, Brown told how one of the country's top consultants was completing an analysis for him.
"I have asked Ernst & Young to prepare a robust - warts and all - position paper on PPPs and their potential to deliver for our region," he said.
"I expect this work to cut through the myths and misconceptions around PPPs and clearly set out how we can tap into the added value they can deliver. This will be published in the coming weeks."
The council wants business more involved in big projects.
"Now is the right time to begin a discussion of how, and where, the private sector might play a bigger role in the provision of Auckland's infrastructure," Brown said.
Philip King, Fletcher Building's general manager of investor and media relations, yesterday welcomed Brown's enthusiasm for PPPs.
"We are very keen to participate in building Auckland's infrastructure for the future and see PPPs as a means of enabling projects to be brought to fruition sooner than otherwise would be the case," King said.
"Through our participation in the successful PPP for the men's prison at Wiri, and our part in the Positive Connection consortium for the Transmission Gully project in Wellington, we have built strong expertise around PPPs which we believe will be useful in the future."
Brown said the council was eyeing PPPs with great interest.
"We want to partner with the private sector. We are open to the prospect of PPPs and we are actively looking at how and where PPPs might be applicable for Auckland. This is a natural next step for Auckland," he said.
Auckland's infrastructure challenge should not be underestimated and traditional procurement models had serious limitations because often the private sector had little ongoing obligations and councils did not always achieve the best value for money, Brown said.
But that had changed under the Super City, which now had the strength to drive hard bargains.
"One of the benefits of the Auckland amalgamation was that it created a scale that has made PPPs, at a civic level, possible for the first time," Brown said, telling how the council managed and operated 7000km of roads and had assets valued at $36 billion.
"To deliver the improvements in the Auckland Plan, we are forecast to invest $20 billion of capital expenditure and $38.7 billion of operating expenditure in the next decade," the mayor said.
The Government was already using more private sector involvement in infrastructure and services, he said, citing Transmission Gully.
But PPPs were not a quick fix.
"It's easy to talk about PPPs as if they are magic money, or will solve difficult funding problems. They will do neither," Brown said.
"PPPs are not funding tools. They are a mechanism for delivering value for money and better outcomes."