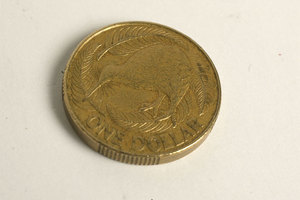 The New Zealand dollar weakened after US first-quarter economic growth came in weaker than expected and Italy ended a two-month political stalemate with the creation of a new coalition government.
The kiwi traded at 84.95 US cents from 84.75 cents in New York on Friday and down from 85.30 cents in Wellington at 5pm on Friday. The trade-weighted index was at 78.33 from 78.24.
US gross domestic product grew in the first three months of this year at a 2.5 per cent annualised rate, less than the 3 per cent to 3.1 per cent pace expected by economists.
The euro edged up after Italy's Enrico Letta forged a coalition with the conservative party of former Premier Silvio Berlusconi, providing some certainty after inconclusive elections.
"There was a little bit of selling of the US dollar (after the GDP figures) but the number wasn't too bad," said Tim Kelleher, head of institutional FX sales at ASB Institutional. "There was a small bounce in the euro from the Italian government being formed."
The kiwi traded at 65.07 euro cents from 65.04 cents in New York on Friday and down from 65.43 cents in Wellington at the end of last week.
The euro's gains were also muted because Spain said it won't emerge from recession until 2014 and will need an extra two years to meet European Union requirements to get its budget deficit under control.
The New Zealand dollar traded at 83.15 yen from 83.08 yen on Friday in New York and down from 84.23 yen in Wellington.
"US dollar-yen is struggling - it can't get through 100," Kelleher said. "The market is speculatively quite long yen crosses so we're seeing them drift off a little bit."
The kiwi traded at 54.79 British pence from 54.74 pence in New York on Friday, and edged up to 82.53 Australian cents from 82.43 cents last week.