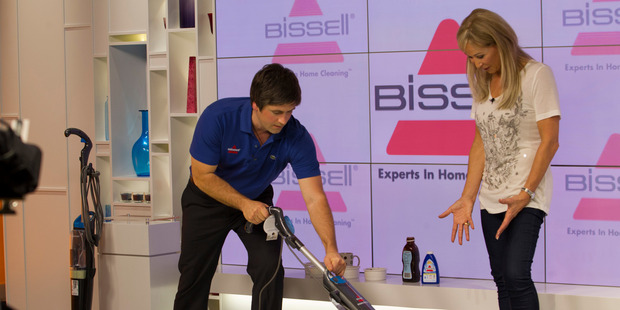 Television networks are increasingly opening up their uneconomic off-peak hours to long-form TV commercials, turning 2013 into the Year of the Infomercial.
Kiwi infomercial makers say the launch of the Shopping Channel last year drew companies specialising in hyperactive, hard-sell, long-form commercials.
Chief executive Alistair Duff says prior to the Shopping Channel the market was dominated by Guthy Renker and Brand Developers. Danoz, Kayee and Show TV were also in the market.
They were looking to buy chunks of off-peak broadcasting time for direct selling using 0800 numbers, accessing the small but surprisingly motivated buyers in the wee small hours.
Sometimes that meant playing imported TV infomercials, sometimes it meant New Zealand-produced infomercials like those made by the Shopping Channel.
TV2 is the country's most popular channel and the only free-to-air channel that does not run infomercials, partly because it can access surplus programming from TVNZ deals with US studios at relatively low cost.
Last month TVNZ opted not to renew its rights to overnight broadcasts of BBC World, opening the 1.30 to 5.30 spots to infomercials.
Sky TV chief executive John Fellet says selling off-peak time for infomercials is not a big earner, and network owners would avoid it if they could. It largely came down to finding enough low-cost programming to balance the loss of advertising revenue.
But MediaWorks TV chief executive Paul Maher accepts infomercials are a valid use of surplus advertising capacity.
TV3 was happy with an arrangement where it handed one hour from 10.30-11.30am over to the Shopping Channel. TV3 also leases out a transmission frequency that allows the Shopping Channel to be broadcast on Freeview.
When MediaWorks gave TV3 time to the Shopping Channel it questioned whether it would hurt its own revenue. "We thought it would not and it has not," Maher said.
There could be a danger that the decision by TVNZ would mean there was too much inventory (advertising time) available for sale, which in theory might diminish revenue to broadcasters.
But for the past five years it had been relatively stable, Maher said.
The Shopping Channel hit problems in December and made cutbacks on presenters and moved from live broadcasts in part of the day to pre-recorded material.
But Duff says those problems have been resolved.
TVNZ head of sales Jeremy O'Brien said infomercials gave a strong commercial return at that time of night compared to advertisements inserted between content.
But increasing infomercials was not part of TVNZ's strategic growth plan.
Infomercial hours
TV One: 1.30am to 5.30am.
TV 2: About 10 hrs per week.
TV3: One-hour Shopping Channel package 10.30-11.30am and overnight.
Four: Overnight.
Prime TV: Overnight
Shopping Channel: 24 hours a day on Sky TV and Freeview.