The annual tourist industry showcase Trenz attracted more than 1000 participants this week. Grant Bradley examines some key themes emerging from the $23 billion industry and why it is bouncing back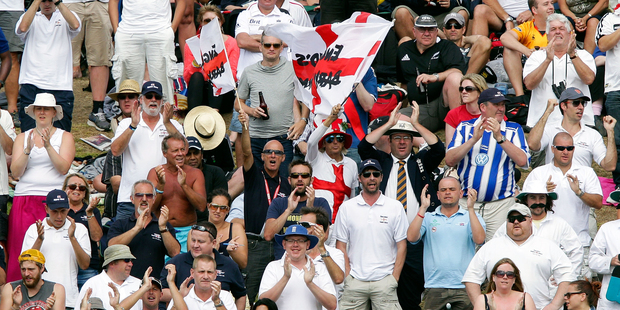 Australia is the quiet giant that remains New Zealand's largest inbound tourism market, accounting for around half of all visitors. Last year 1.1 million Australians arrived, up 1.4 per cent from the previous year, and their number is forecast to grow by 500,000 in the next five years. Transtasman currencies move largely in tandem, meaning Aussies avoid the exchange rate pain felt by others. The gathering in Auckland's The Cloud heard Air New Zealand will increase transtasman capacity by 4 per cent in the coming year with more Queenstown services and a summer Christchurch-Perth service. And there's the potentially attractive Australian route - Qantas and Emirates are considering Auckland-Adelaide.
Barmy Army troops following the English cricket team bolstered numbers from Britain in March but they are well down on pre-global financial crisis levels and the British market now lags behind China. Tourism leaders say more Brits will come when we co-host the Cricket World Cup in 2015 and the World Masters Games two years later.
China was the star despite the industry trying not to become too fixated. Since New Zealand was declared an approved destination in 1999 the market has been unlocked, growing 85 per cent in the past five years to 208,000. One forecast predicts a million Chinese tourists a year in five years, which will put more strain on sometimes already creaking infrastructure. The first priority is basic language skills in the hospitality sector, more translators and more appropriate food in hotels, especially outside Auckland. As Air NZ chief executive Christopher Luxon says: "It's going to happen whether we're ready or not."
Domestic travellers generate $38 million in economic activity every day, far more than the $28 million generated by international visitors. Operators say the belter of a summer got more New Zealanders out travelling. Total spending on tourism is $23.4 billion, with international visitors contributing $9.6 billion, comprising 15.4 per cent of our exports.
Environmental concerns about the impact of a surge in tourist numbers are shared by the industry but Tourism NZ chief executive Kevin Bowler says the push is for high-spending tourists rather than high volumes, which should minimise their impact. Prime Minister John Key says cutbacks to the Department of Conservation should not affect visitors' enjoyment of its estate. "We are looking to build the number of rangers. There'll be less middle managers."
Flights from around the world bring in 99 per cent of visitors and besides the Australian increases more services will be needed and route development will get some extra government money. Air NZ is putting more capacity into North America this year and beyond that it's scoping new routes to emerging markets Indonesia, India and Latin America, with the ultra long-range Boeing 787 opening up all kinds of possibilities. China Southern says it will consider putting more capacity on its Guangzhou-Auckland route, possibly using the Dreamliner, when demand is sufficient, Qantas says it will look at restoring its Auckland-LA service as its long-haul business recovers and Indonesian airline Garuda has committed to resume services when market conditions allow.
Government spending on tourism promotion will increase by $158 million in the next four years. Key guaranteed himself a warm welcome at Trenz with the announcement just before the event. Most will bolster Tourism NZ's $84 million a year budget promoting New Zealand overseas but around $24 million will be used for joint funding of tourism ventures and projects here.
Hawaii will remain the PM's favoured summer holiday destination with his family. As he's also Tourism Minister he cops stick from political opponents for holidaying abroad rather than staying at home. He explained to journalists covering Trenz: "The reason I go is not because I don't love New Zealand and go to my beach house up the road, the reason I go is because if I truly want to have a couple of weeks where it's just me and the family, I can't do that in New Zealand because you can't switch off being Prime Minister." He says he would be mobbed walking down the street on summer holidays here, asked for photos which he'd feel rude to refuse and advises his opponents to check predecessor Helen Clark's summer holiday destinations.
Investment in some hotels and other infrastructure went on hold after the global financial crisis but there are signs it's coming back. Crafar farms buyer Shanghai Pengxin says it is looking to build boutique hotels here. Bowler says tourist operators should keep in mind the healthy 65-year-old baby boomer who is interested in cycling, golf, food, wine and guided walking. "If I was investing I'd be looking at that active group in their 60s who are time rich and money rich."
Jetstar would be a welcome entrant on regional routes if it chooses to take the plunge and take on Air New Zealand in its heartland, says Associate Tourism Minister Chris Tremain, who is also Napier's MP. He says that while Air NZ did a "wonderful job" he'd welcome competition. "From a regional point of view when people are having to pay the kind of airfare they would do to cross the Tasman then they're less likely to fly to regional tourist destinations." Air NZ says it has carried four million passengers to the regions over the past year and its chief executive Luxon says some of the routes remain marginal given airport charges.
Korea is seen as a cautionary tale of what can go wrong with a promising international market if it's not nurtured. Auckland Airport chief executive Adrian Littlewood said that in 2002 109,000 Koreans came here but that's almost halved since. Some tour subsidies disappeared, some of the agents went broke and "the tap just turned off". New Zealand didn't respond, air capacity was lost and the market went into a downward spiral.
Luxury travellers are being actively courted. $20 million of the new funding will go into this, the country has a network of high-end five or six-star lodges. One, $980-a-night Fiordland Lodge, says 95 per cent of its clientele is from overseas, mainly North America, Europe and Australia, and manager Andy Cunningham says Chinese guests are starting to arrive. "We've had more out of China in the past four months than in the past four years - the word's out."
Movies, specifically New Zealand's association with The Hobbit, are starting to pay off. Luxon says Air NZ's online bookings for the US bounced up 9 per cent after the first film came out and the trilogy is a big part of Tourism NZ's and the airline's marketing push. "When we're overseas and unless we're in a rugby-playing nation the first thing that is talked about is The Lord of the Rings and The Hobbit," Bowler says.
New faces are at the top of big tourist players including Luxon, Tourism Industry Association's Martin Snedden and Littlewood, who all took up their roles within the past year. Tourism NZ's Kevin Bowler is just three years in his job. There's some genuine chemistry among the group, helped by all being on the recent Key-led mission to China.
Optimism abounded at The Cloud. While there's no point being glum in hospitality, among the speed dating-style travel transactions at Trenz there were genuine smiles. Hicks Bay Motor Lodge's Jody Anderson says a major building makeover, some business basics and the promotion of the Pacific Coast Highway has seen a near threefold increase in coach tour business. Northland dive tour operator and chairman of the Northland Tourism Development Group agency Jeroen Jongejans says Kiwis were travelling in high numbers over the summer and Australians are increasingly looking at regions as an extension of their own domestic market. Venture Southland's tourism sector manager, Tareen Ellis, says that while not at pre-financial crisis levels, the traditional markets Britain, the US and Germany are showing signs of recovery and Chinese free and independent travellers are starting to trickle in. Snedden's organisation ran Trenz and he says feedback from both the New Zealand operators and the international travel buyers has been excellent. "Numerous operators have told me there was strong interest in their product, especially from the fast-growing Chinese market."
Prices have gone up for visitors whose currencies are weak and the country is battling a perception it is expensive. Bowler says he makes no apologies for the strength of the economy relative to those of other countries. "One of our reactions to that for us is to focus on high-value visitors who have a higher level of discretionary income." Tourism Export Council chief executive Lesley Immink says tour operators are having to cut into their own margins but otherwise the high dollar is not so bad.
Queenstown's convention centre has not been ruled out as a recipient of government funding. Part of the new marketing spending will target the lucrative business and convention market but the missing link is a network of large convention centres. The $50 million Queenstown centre could get "some" government cash, says Key, who hopes for a decision on the controversial SkyCity-funded Auckland convention centre soon.
Reputations worth having take years to build but are easy to lose. Key says he is concerned about any tourists being robbed or harmed and the Government is working with the police, councils and operators about security. Bowler says the threat to the reputation as safe and welcoming is a bigger issue than controversy over the country's environmental performance. An attack this month on a group of Korean visitors in Queenstown had done "irreparable harm".
Service standards can be spotty, especially from smaller operators, the gathering heard. There are about 8000 tourism businesses here and about 85 per cent are small to medium-size enterprises. Snedden says the whole industry has to lift its game and not enough is being done to support and train the smaller operators.
Tours have at times been in short supply, as have hotel rooms. Reports emerged that the influx of Chinese during New Year celebrations in February forced one tour operator to use school buses while visitors from China reportedly had to sleep on a coach in the South Island and others slept in a hotel lobby. Key says new capacity will need to be built and new marketing is partly to attract people at off-peak times.
United States visitors are this year returning in numbers after the crisis. Last year 186,000 arrived and industry leaders point to The Hobbit and more economic optimism as reviving the market. Luxon says Air NZ has a tiny fraction of the outbound market but research suggests there are 22 million "active considers" of a trip to New Zealand.
Visas enabling high-value visitors from China who have premium frequent flyer status to more easily enter NZ were crucial in persuading China Southern to fly here. Since then the scheme has been extended to Air NZ. Before Trenz the Government announced a $7 million funding boost to smooth immigration processes, especially for Chinese visitors.
Weibo is the Chinese hybrid of Twitter and Facebook that was presented to tourist operators as a great way to push into China. Auckland Airport announced a partnership with the site through its new digital programs in China, including the use of content from its luxury tourism website www.xindaohualv.com and new independent traveller site www.xinxilanlvcheng.com, allowing New Zealand to be marketed to an audience of more than 500 million.
Xray departments are where too many tourists have ended up. Key said tourist operators and government agencies were working to clean up the adventure industry. "One or two have let the side down and we can't put up with that. That's unacceptable to the Government."
Yao Chen is a Chinese celebrity who married here last year and is one of a growing number of Asian stars active on social media hired to promote New Zealand. She has 42 million Weibo followers and is part of an Air NZ and Tourism NZ campaign to promote premium travel and entice honeymooners here, with the airline reporting almost immediate results. Auckland Airport targeted the high-end Indonesian market by co-hosting chef Farah Quinn on visits here last year, which has paid dividends.
Zip lines are supercharged flying foxes and are popping up around the country, part of a proliferation of new attractions. One announced at Trenz will let Auckland visitors make more of Rangitoto and Motutapu islands with a visitor experience that will also include themed walks of up to three days and new accommodation.