PM announces special fund as part of $158m package and calls for new infrastructure.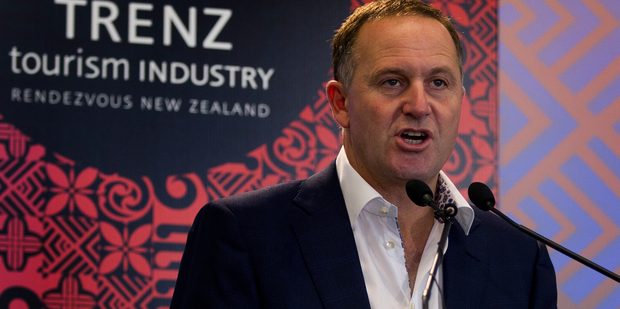 Prime Minister John Key says a $158 million tourism package mainly for marketing overseas will need to be matched by new infrastructure - including convention centres - if the plan is as successful as hoped.
Key, who is also Tourism Minister, has made himself popular in the industry and said the spending over four years would be targeted at high- spending tourists and emerging markets such as Indonesia, India and Latin America.
"If New Zealand's going to be successful in attracting overall numbers and the quality of spend we need to spend a bit more cash."
During the past decade tourist numbers have increased but spending per visitor has fallen. High-end tourists, who in groups can spend $1 million a fortnight, would be targeted with a special $20 million fund.
Key outlined details of the new spending ahead of a major industry conference in Auckland yesterday, including $34 million of which would go on promoting New Zealand as a compelling convention and conference destination for the most lucrative markets, Australia, the United States and China, India, Indonesia and Singapore.
Questioned about the lack of a large venue in Auckland, Key said there were a "number of problems" throughout the country with the centre in Christchurch devastated by the earthquakes, Queenstown had yet to sign off on its centre and there was not yet a decision on the SkyCity convention centre.
"My understanding is we're getting closer with SkyCity so hopefully in a position at a future date not too far away to take another step with that. We can only market events that existing facilities can accommodate but the long-term plan is to have an integrated New Zealand-wide network."
The SkyCity deal was embroiled in controversy after a concession to have more casino pokie machines in return for the company building the centre. A spokeswoman last night said the company was still negotiating with the government.
Figures out today will show last month was a strong one for visitor numbers after a surge in tourists in February which coincided with Chinese New Year and put severe strain on Auckland accommodation, restaurant and coach capacity.
Key said the aim of the marketing was to even out numbers throughout the year.
"There will be more capacity that will need to be built if we are successful as we hope we can be."
Some of the money would be used to encourage new air links to high growth areas - Indonesia, India and Latin America.
While most of the package will be spent by government agency Tourism NZ on marketing overseas, $28 million would co-fund business innovation and growth initiatives in the sector.
The Government would work with tourism businesses, the Tourism Industry Association and other groups to "create new opportunities and overcome barriers to growth in the sector", Key said.
In an additional tourism boost, Immigration New Zealand will get $7 million over the next four years to help increase visitor numbers by smoothing processes at the border.
Immigration Minister Michael Woodhouse said $5 million of that would be spent on ensuring visa application information was available in languages other than English, starting with the Chinese market.
The Trenz conference - a four-day annual tourism and trade event, has about 1000 participants.
Selling NZ
$44.5m for emerging markets
$24.5m for existing markets
$34m for business events
$20m for very high value visitors
$28m for domestic initiatives
$7m for smoothing immigration.