Neill Williams has been sentenced to three years and seven months in prison for misleading investors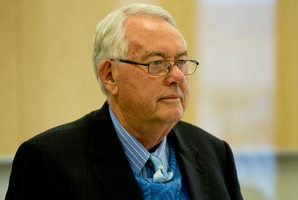 The elderly founder of the failed Five Star group, Neill Williams, has been sentenced to three years and seven months in prison for misleading investors - a longer jail stint than any of his colleagues from the set of finance companies.
Williams, 79, pleaded guilty in 2010 to three Securities Act charges concerning misstatements in an advertisement or registered prospectus.
He also pleaded guilty to one charge of a false or misleading statement in a financial statement.
Williams was not a listed director of Five Star Finance or related company Five Star Consumer Finance, and claimed he was only an employee of director Nicholas Kirk.
But a district court judge found otherwise last month and said Williams was "an integral part of all major strategic decisions within the Five Star group".
Judge David Wilson said that Williams was the founder of Five Star and his "employment" by Kirk was part of a "careful construction to hide the real position from the investing public and the authorities".
When sentencing Williams yesterday before a packed public gallery - including out-of-pocket Five Star investors - Judge Wilson said Williams' culpability was high.
The offending prospectus had misled the public regarding the quality or risk of investment, Judge Wilson said.
"I have found that you had actual knowledge of the deficiencies [in the prospectus] and that you acted dishonestly in concealing your role," he said.
The collapse of the companies, which still owe investors or creditors more than $85 million, led to "massive losses", the judge said.
Crown prosecutor Steve Symon said Williams' offending was "some of the worst of its kind in a finance company context" and pushed for a starting point of five years' jail for the accountant.
Any deduction on this for Williams' age, poor health, or guilty plea should be "nominal", he said.
Williams had submitted that he was remorseful but the Crown did not accept that, Symon said.
The offender had maintained he was not responsible for any harm done to investors, the Crown lawyer said.
"Saying you feel sorry for yourself and saying you feel sorry for investors because of what you think other people have done does not make you remorseful," Symon said.
Judge Wilson, when sentencing Williams, said he regretted to say the elderly businessman had not shown any "extraordinary" remorse.
The 79-year-old's lawyer, Andrew Speed, said none of the witnesses at the hearing to determine Williams' role at Five Star had said he was involved in preparing the offending prospectus.
It was not accepted that Williams was "the driving force" at Five Star, Speed said.
"There is no suggestion Mr Williams actively encouraged any lies."
Speed put forward a sentencing starting point of three years' jail and pushed for his client to be given home detention.
However, Judge Wilson settled on a starting point of four years six months' jail.
After giving Williams discounts for his guilty plea, old age, his and his wife's poor health, the judge sentenced the 79-year-old to three years and seven months in jail.
Although Williams had admitted the charges more than two years ago, Symon said the man had done everything he could since then to avoid sentencing.
This included twice attempting to set aside his guilty plea, filing for an adjournment and applying for a judicial review in the High Court, all of which failed.

Sentences
Five Star directors' terms
• Nicholas Kirk, two years and eight months' jail.
• Marcus Macdonald, two years and three months' jail.
• Anthony Bowden, eighteen months' home detention.