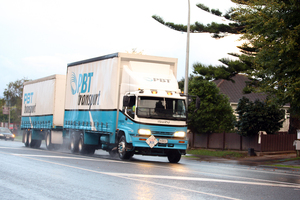 ANZ's Truckometer is showing early signs of the impact of drought on economic activity.
The heavy traffic index, which reflects truck flows along roads selected to provide a close real-time match to gross domestic product, fell 2.7 per cent last month.
ANZ economist Sharon Zollner said the fall in truck volumes was primarily on South Island roads and captured the early end to the dairy season, particularly on the West Coast whose soils are unusually reliant on regular rain.
"Given that the North Island is a more important dairying region the index may therefore be a month ... ahead of itself in terms of the overall GDP impact," she said.
"We suspect we will see North Island truck movements hit in April."
The last time traffic flows diverged this strongly between the two islands was in the 2008 drought, which was worse in the North Island.
For the March quarter as a whole the heavy traffic index was down 1.2 per cent on the December 2012 quarter.
"I think the index overstates the case for a negative GDP result but after a 1.5 per cent increase [in December quarter GDP] you would expect some recoil.
"We do have a stop-start recovery. That said, other indicators for the March quarter have been coming out quite respectable."
They include NZIER's quarterly survey of business opinion, released on Tuesday.
Much of the stellar December quarter GDP result was driven by strong consumption, as the pick-up in the housing market encouraged some spending above what income growth would normally justify, Zollner said.
"That kind of impetus, while it can't be sustained in the long run, may well persist for more than one quarter."
Meanwhile, the light traffic index, which is based on car and van movements, and which provides a steer on activity six months ahead, had also pointed to a weaker March quarter but was more positive about the June and September quarters.