Local fruit and vegetable delivery business Ooooby founder Pete Russell on his partnership with the Auckland City Mission.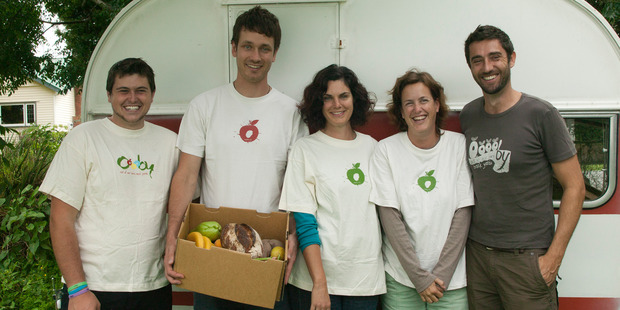 What were you looking for in a charity partner?
We were looking for an organisation that we could trust to deliver our fresh produce to the people in need. Auckland City Mission are focused on meeting the challenges of disadvantaged people in Auckland in a direct and personal way.
How did you decide on Auckland City Mission?
It was mainly to do with my childhood connection with Sydney City Mission. My Mum worked for many years with the Sydney City Mission and our family was host to many troubled kids who the City Mission were seeking refuge for. So I have a personal experience with the organisation and culture.
What exactly are you doing with the charity?
Every week we deliver food from local farmers directly to the food bank in the Auckland City Mission headquarters in Hobson Street. Some of our customers donate a portion of an Ooooby Box to the City Mission and we also add any produce that is left over after packing the Ooooby Boxes that are delivered to over 300 Auckland households.
So far we have donated over $12,000 worth of fresh food.
How are you communicating your involvement to your customers?

We haven't been doing much communication around this yet as we have been more focused on executing the local food mission, so many of our customers would be oblivious to the contribution Ooooby is making. We figure we'll do it first and talk about it second. I suppose we ought to have a section in our next newsletter about it.
What has the feedback been from customers about your charity involvement?
All of our customers have the option of donating a portion of a box to Auckland City Mission during the sign up process. We occasionally receive positive feedback from these people however because we haven't been broadcasting it.
How does Auckland City Mission align with the Oooby brand?
It aligns perfectly well. The Auckland City Mission is all about counteracting the pain caused by the economic disparities between the different stratas of our society. Ooooby is all about reducing the economic disparities between food consumers. It's one thing for some of those at the lower end of the socio-economic spectrum to lack access to a new sports car, but it's another thing altogether to lack access to decent food.
Any tips to other businesses looking around for a suitable charity partner?
Identify where your core strengths are as an organisation in delivering social good and then find the charity that is seeking your strengths. If you are a construction company for example, then you will be more capable of helping a charity helping house disadvantaged people than you would be to help a charity concerned with curing cancer for example. It also does however largely come down to an emotional connection with the cause.
Do you have any other charity partners?
Not yet, but Oxfam is concerned with problems that we are working on too, so there would be a natural fit there too. In which case, our contribution would be more about generating awareness and providing real life case studies for their GROW campaign than it would be delivering food every week.
NZ tech businesses are gaining attention and awards around the world. What have been their successes and challenges? Email me, Gill South at the link above with your ideas.