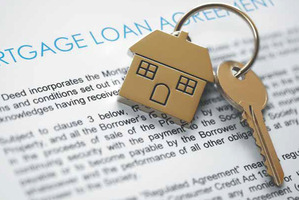 The New Zealand housing market is currently experiencing an upturn. Until recently, the main action has been in Auckland, where there is a housing shortage caused by internal migration and a lack of new houses built in recent years, and Christchurch, where of course a large number of houses have been destroyed.
However, of late, the upturn has been broadening across the country. In October, house sales lifted in every single region and were a third higher than a year ago nationwide. And where sales go, prices tend to follow a few months later. Median house prices in Auckland have hit new highs, up 14 per cent in a year. Prices elsewhere have not moved as much, but the sharp lift in sales suggests they may start to rise more decisively as well.
The catalyst is not hard to identify: mortgage rates are near record lows. The floating mortgage rate is currently around 5.7 per cent, compared with double figures just four years ago. Statistically, one can forecast house prices successfully using just interest rates and population growth: what is happening now is entirely in line with the housing market's usual behaviour, even with net migration relatively weak.
The question is, how sustainable can the housing upturn be? Auckland house prices in particular are "overvalued" by traditional metrics, such as comparison with rents, or with incomes. And the rest of the country is hardly going for a song - the fall in house prices from their peaks has been minimal in most regions, while income growth in recent years has beenmodest.
Most importantly, households are already carrying a lot of debt on average: while some progress has beenmade in recent years, total household debt is still around 140 per cent of income, versus 60 per cent in the early 1990s. The Government owes a lot, too, making New Zealand a heavily indebted nation all up. There are natural limits on how much debt households will be willing to take on and how much foreign investors will be willing to lend to them.
With all this in mind, ANZ's view is that the current lift in the housing market will not defy gravity and become a bubble, but that it will self-correct. The increase in Auckland house prices, which kicked the cycle off, is a classic and necessary development given a mismatch of demand and supply, and it is succeeding in doing its job, namely spurring a supply response. The number of listings with Barfoot & Thompson in Auckland (roughly 40 per cent market share) is up 25 per cent versus a year ago, and the number of consents for residential dwellings in the region is 12 per cent higher than a year ago. These developments should see house prices find their level before things get "silly". The Reserve Bank will certainly be hoping so. The last thing they want to have to be doing is popping a housing bubble at a time when the broader economy is far from booming and the currency is already so high, as higher interest rates could push the New Zealand dollar still higher.
The main challenge for the New Zealand housing market - and quite possibly the broader New Zealand economy - over coming years will be growing Auckland and rebuilding Christchurch at the same time. It is inevitable that construction costs will increase (you might want to remodel your kitchen sooner rather than later). The question is by how much, and whether it will feed through into broader inflation pressures across the economy.
In part, this will depend on howmany builders and tradespeople return from over the ditch. The Australian mining construction boom is cooling rapidly, a development which could prove very well timed from New Zealand's point of view. But of course, new arrivals need somewhere to live, so it's a double-edged sword. But this is a story for another year. For now, inflation remains benign across the economy, thanks to the high currency, moderating wage growth, and a tepid retail sector.
We don't see this changing any time soon, and the Reserve Bank is not likely to raise interest rates before 2014, in our view. Indeed, evidence is mounting that the economy stalled completely in recent months, and this may well put pressure on the Reserve Bank to cut interest rates again. Economic indicators for growth further ahead look respectable, however, and so a cut is far from in the bag.
The housing market certainly doesn't appear to need one.
* Sharon Zöllner is senior economist at ANZ
This material is for information purposes only. You should seek professional advice relevant to your individual circumstances. While ANZ has taken care to ensure that this information is from reliable sources, it cannot warrant its accuracy, completeness or suitability for your intended use. To the extent permitted by law, ANZ does not accept any responsibility or liability arising from your use of this information.