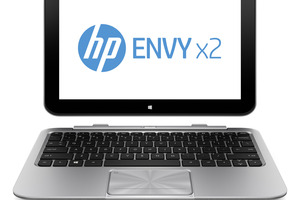 Most people I know love tablets, and yet many also own and use a PC. It's ironic, but then there's a really good reason for this.
Tablets are great for surfing the web, reading an e-book and even for knocking out the odd email, but I'd hate to write anything lengthy using a touchscreen keyboard. Enter stage left, the notebook.
Where a tablet is a slim wedge of portable digital awesomeness, notebooks are also portable, but are ergonomic the same way bricks aren't. This said, even a cramped notebook keyboard is preferable for extended bouts of QWERTY bashing than an onscreen touch keyboard.
But what if you could have both? How does a tablet for surfing, and when you need it, and the ability to convert it into a notebook with a proper keyboard sound? Having tested several of these devices, I'm a definite convert to convertibles. Plunking down hard earned cash for a laptop or a tablet simply doesn't make sense when you can have both.
HP Envy X2 RRP $1,124.00
Seeing HPs ENVY x2 in action can be pretty disconcerting to the uninitiated. Sitting on a plane I managed to startle the poor person sitting next to me, who was convinced I'd snapped the screen clean off my laptop when I separated the tablet from its keyboard docking station. Thankfully re-docking the screen was dead easy and I managed to reassure the poor person that I hadn't torn the screen off my review unit.
Look and Feel
My initial impression of the ENVY x2 was that HP must be gearing up for a legal bunfight with Apple given its similarity to the Macbook Air. For a start, the ENVY x2 is supermodel skinny, exuding designer chic thanks via its brushed metal finish. Even when docked as a notebook the X2 seemed incredibly petite, putting the ultra back into Ultrabook.
Tear-off Screen
Where most other manufacturers resorted to a raft of ingenious tricks to craft their convertibles, HP made use of a simple but clever magnetic hinge system. When the screen/tablet is docked, the X2 looks like a perfectly normal ultra-skinny laptop. I'd be willing to wager that even after repeated use, the X2's screen is likely to stay firmly attached.

The Skinny on the X2
In terms of its tablet persona, the X2 ticks all the right boxes. Its 11.6" screen felt roomy and at 1.4Kgs, it felt comparable to an iPads heft. As a keyboard toting notebook, the X2 was also an anorexic 193mm thin.
If there's a downside with the X2, this is it - there's only so much real-estate on such a petite device and that limits the number of ports HP could include. The connectivity selection on the X2 isn't bad, it's just that an Ethernet port and a USB3 port would have sealed the deal.
On the keyboard dock there's three USB 2.0 ports, an HDMI port, 3.5mm audio connection, and an SD card reader. The X2 tablet has a micro-SD card slot, plus a headphone jack.
Battery life-wise, the additional battery in the X2's keyboard dock meant it barely broke a sweat running for 13 hours 33 minutes.
Tablet/Screen
The X2's 11.6" display sports a 1366 x 768 resolution, which whilst lower than the Dell XPS 12 or Viao Duo was still stunning. Viewing angles were excellent. Where the current crop of el cheapo android tablets often trade display quality for price, the X2's screen was vivid, and colours were accurately portrayed.
Being a touch screen, it was also a fingerprint magnet, but was responsive and accurate - nicer still, its touch screen smarts worked in laptop mode. This made all the difference when it comes to Windows 8 touch centric interface - The clickpad was barely used.
Keyboard/Dock
Typing on the X2 will be immediately familiar to anyone who owns an Ultrabook. Key travel is shallow, which is okay for touch typists. For those used to a full-sized piece of QWERTY real estate, it might take some adjusting to.
All told, the X2's keyboard wasn't that shabby and in use, felt a lot like the scrabble tile keys on my Acer S3 ultra-book. About the only negative was the lack of backlighting. The X2's touchpad is annoyingly a click-pad - if you push down on it's the lower right side, you'll get a right click (you can push downwards elsewhere for a left-click). I found the touchscreen more usable.
Verdict
The X2 wins on a design basis, and its battery life led the pack hands down thanks to the additional battery in its keyboard dock.
About the only fly in the ointment is the lack of any real processing muscle - Its Atom processor is likely to struggle compared to the core i5 or i7 in the Dell XPS12 or Ausus's Tai Chi. This said for most tasks barring HD video editing or decoding the human genome, the X2 is a perfectly good choice.
Dell XPS 12 RRP$2,199
There's a lot to like with Dell's XPS 12 convertible. It resembles the original Dell Ultrabook in that there's plenty of carbon fibre and alloy which means it feels about as solid as a brick-you-know-what house. In short, the XPS 12 doesn't feel like el-cheapo Tupperware with a touchscreen, but a pretty high end tablet/Ultrabook.
What a Spinner
Converting the XPS 12 to a tablet or back to an Ultrabook makes use of a clever screen bezel that lets the display rotate. Spinning the screen outwards and closing the lid forms a tablet. Strong magnets also mean the screen reassuringly swivels into position. I had some concerns that the bezel mechanism might be too fragile to survive repeated use, but in practice it felt rock solid and worked a treat.
Under the Hood
About the only thing missing from under the XPs 12's hood is a kitchen sink. Powered by an Intel Core i5 or i7 CPU, the XPS 12 also packs 4 or 8Gb of RAM plus an SSD drive with Intel HD 4000 graphics. Being a Dell you can choose specs online when purchasing.
One feature that stood out in particular was its excellent backlit keyboard. Knocking out large chunks of text was a joy. Adding to an already impressive spec was the 12.5" IPS touchscreen. Thanks to a 1920 x 1080p resolution, HD videos and photos looked crisp whilst Small fonts remained readable. Colours remained accurate regardless of viewing angle.
In Use
In use the XPS 12 The machine was responsive and ran Office productivity and photo editing apps with no problem. With Intel HD 4000 integrated graphics, the XPS 12 isn't however going to be much of a gaming machine, but was still pretty versatile. Weighing in at just over 1.5Kgs, the XPs 12 isn't exactly a featherweight, but it was easy to hold and use thanks to its grippy carbon fibre finish. Unfortunately its hefty form factor meant that extended tablet sessions may require you train as a body builder beforehand.
Connectivity & Expandability
Like the X2, The XPS 12's diminutive size also meant it was constrained in terms of the available connectivity options. This said, Dell win brownie points for including 2 USB 3.0 ports, and a mini DisplayPort is also nice as it gives the user plenty of options, depending on what adapters they chose for VGA and/or HDMI. There's also a 3.5mm audio jack, but no SD card slot. I was also moderately impressed with its battery life (under typical use I managed to wring just under 6 hours before it begged for some quality wall socket time).
Verdict
The XPS 12 isn't just good looking, it also packs a great 1080p display, usable keyboard. Its carbon fibre finish also gives it better gripability, allowing the user to avoid involuntary (and costly) drop tests. About the only real negative with the XPS12 was its heft which loses it points in the tablet department.
Asus Tai Chi RRP$2,499.00
The various convertible mechanisms in roundup are as clever as they are numerous. From an engineering standpoint, making a convertible is a pretty challenging proposition. Frequent docking/undocking means lots of wear and tear, which eventually is likely to result in costly repairs.
Asus have clearly given this some thought and has done away with breakable hinges and docks, instead Asus have put a second screen onto the back of the laptop screen. Whilst this is tricky from a manufacturing perspective, it is elegant in use. Closing the Tai Chi's lid see's the second display fire up to serve as a tablet.
This also gives the Tai Chi a rather nifty trick. In laptop mode you can fire up the second outward facing screen to display a presentation, leaving you free to view PowerPoint note pages as you present.
Look & Feel
Whilst the Tai Chi lacks the wiz-bang alloy or carbon fibre design elements of both the X2 or the XPS12, it weighs in at 1.2Kg, making pretty light. This said, much of its weight is concentrated in its screen. As a result I was constantly worried that it was going to tip backwards off my lap.
Looks-wise you could be easily fooled into thinking the Tai Chi was an ASUS Zenbook thanks to its aluminium deck, whilst its sides underside are finished in an attractive copper brown colour. Flipping open its lid reveals an 11.6" screen. When the back screen is not in use, the Tai Chi's lid looks like a run of the mill glossy black surface. Clever stuff.
Keyboard and Touchpad
Like the Xps 12, I was impressed with the Tai chi's keyboard which provided excellent tactile feedback along with a decent sized palm-rest. In use the Tai Chi acquitted itself well, with prolonged typing sessions working just fine. Testing the Tai chi's keyboard backlighting was a goldilocks experience. There were three brightness levels. The first level was a bit too dim, the third level involved tanning clinic brightness and the second level was just right.
I was however less impressed with the Tai Chi's touchpad, whilst it was relatively large was also a click pad which I tend to find intensely annoying in use. Frustratingly, where the XPS 12 and the X2 both sported touch capable screens in laptop mode, the Tai Chi didn't, forcing me to navigate Windows 8 with its touchpad. It was workable but was nonetheless a real frustration.
Screen/Stylus
Both the internal notebook display and the back tablet displays delivered solid colour reproduction and wide viewing angles. Both screens are also 1920 x 1080 at 11.6" in size. This meant that smaller fonts were crisp whilst HD video looked great.
Another feature that won brownie points was the inclusion of a stylus that according to the press blurb supports 256 levels of pressure. It worked a treat allowing me to showcase my appalling drawing skills and to also do some incredibly useful stuff like annotate photos and documents.
Connectivity
Like the other convertibles in this line-up, the Tai Chi could do with more ports. That isn't to say that there are no options, it has a microHDMI out, and also had a USB 3.0 port. Unfortunately there is no SD card reader or Ethernet port. This said, The Tai chi does come with a mini-VGA adaptor and a USB to Ethernet adapter, but these bits are easily lost.
Performance
Packing a 1.9-GHz Intel Core i7, the Tai chi is muscular enough to do most computing chores you'd to throw at it. Thanks to a 256Gb SSD, the Tai Chi can also boot in a mere 18 seconds. About the only negative performance-wise is gaming. The inclusion of integrated Intel HD 4000 graphics silicon means that the Tai chi is going to struggle with the current crop of games. With typical use the Tai Chi ran for just over 5 hours.
Verdict
The Tai Chi's dual-screen design could see it being slightly more durable than its convertible siblings sporting more complex docking mechanisms. Having the external screen for giving presentations is also a distinct bonus as is stylus input. I was smitten with the Tai Chi's lightness and zen-like simplicity, but its short battery life could be an issue.
Sony Viao Duo RRP$1,978.00
I'd first encountered the Viao Duo from Sony a few weeks back at my local Sony Store. As with most Sony gear, it is a tastefully designerish. Looks aside, Sony have chosen a sliding hinge mechanism for the Duo to perform its convertible magic. In practice it works really well, but watching customers puzzle over how to open the Duo was amusing - if not a little worrying as some came close to breaking the display unit. That this never happened is testament to the solid engineering that has gone into the Viao.
Connectivity
Another side benefit of the Duo's hinge design is that whilst it is bulkier than most other convertibles, it packs oodles of ports. I liked the inclusion of a full-sized VGA and Ethernet port. Sony deserve extra Kudos for not cutting back on ports or installing finicky micro interfaces with easy to lose VGA, HDMI, Ethernet and USB adaptors.
Keyboard/Pointer Stick
The keys on the Viao Duo were tiny and took a bit of getting used to. This said, typing turned out to be quite a pleasant exercise despite the smaller keys. This is largely due to the fact that there is a wide gap between each key making for accurate typing, even at speed.
Where many manufacturers opted for a click pad Sony went for a joystick pointer. Counter-intuitively, the cursor is moved by swiping the top of the stick rather than trying to move the stick itself. The Duo's touchscreen was excellent and about the only time I used the pointer-stick was when I'd exited into desktop mode.
Display
At 1,920x1,080, The Duo's display is a stunning. Colours almost leapt off the screen, regardless of viewing angles. Photos and video looked great, highlighting Sony's long heritage in LCD displays. Even though the screen popped, the Duo like most of the other convertibles isn't likely to be much of a games machine thanks to the inclusion of Intel HD 4000 graphics silicon. Whilst basic games will work fine, state of the art first person shooters are most likely going to look like beautifully rendered slide shows.
Battery Life
Sony have bundled a 4-cell, 4,960 mAh battery with the Duo, which is reflected in its relatively short battery life of just under 4 hours with typical use. An additional battery is sold as an optional extra for extended periods away from the wall socket.
Verdict
The Duo felt solid and was beautifully constructed. Its display particularly impressed and the slide hinge mechanism felt pretty robust and as with exuded attention to detail in terms of build quality. In use it felt snappy, responsive and ticked all the right boxes bar battery life.