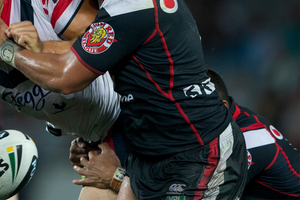 More than four in 10 people say it's time to ban alcohol sponsorship in sports, a number alcohol control advocate groups see as encouraging.
A Herald-DigiPoll survey asked whether alcohol sponsorship of sports bodies should be made unlawful along the same lines as tobacco sponsorship, which was banned in the early 1990s.
"I don't think you would have got that number two years ago," said Doug Sellman, director of the National Addiction Centre. "There has been a real shift in public opinion around alcohol."
While some alcohol advisory groups don't believe such a ban would go far enough, breweries argue the industry is already heavily regulated and that banning sports sponsorship would do little to alleviate binge drinking, while harming sports bodies by limiting their revenue.
Rebecca Williams from Alcohol Healthwatch said studies had shown sportspeople were more at risk of problem drinking.
"Sportspeople who are exposed and have sponsors' merchandise and that stuff that goes along with it are shown to be more likely to be heavy drinkers and have problems with their alcohol use," Mrs Williams said.
"Young people like Zac [Guildford] were born into this liberalised environment around sales and marketing of alcohol. They've known nothing else. For them it is just normal. They probably don't even think about it as a problem but we do know from the research it clearly is a problem."
New Zealand Rugby Union general manager public affairs Nick Brown said commercial support of a wide range of products and services was vital to help grow and promote the game. "New Zealand rugby is an advocate of sensible decision-making around alcohol by adults," he said.
"In that context, we remain comfortable receiving sponsorship from an alcohol company in the same way that many major events, concerts and festivals are sponsored by alcohol brands."
Lion Breweries, which makes Steinlager, said there was no evidence to suggest banning sponsorship would lead to a reduction in binge drinking. External relations manager Liz Read said rules around promotion of alcohol were already strict. Producers could only link brands rather than products to sports bodies and there were strict rules about how "heroes of the young" could be used.
Australia is leading the way when it comes to banning alcohol sponsorship in sports in Oceania.
Aided by A$25 million in Federal Government funding - sourced from a levy on alcopops - 12 Australian sports have agreed to halt alcohol sponsorships. Soccer, basketball, cycling, hockey and swimming are among those to have applied the ban. That move has had repercussions here with the Wellington Phoenix having to remove branding from their shorts and have brewery signage removed from the Cake Tin.