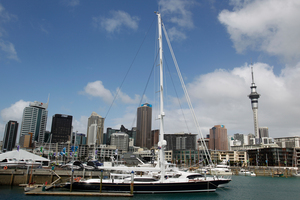 A superyacht service business says the country is not doing enough to promote high end tourism.
Against a backdrop of falling visitor spending calls are growing for tourism bodies to promote luxury tourism.
Auckland-based Superyacht Support says New Zealand had promoted itself successfully as a refit destination but was not getting through to the owners of the vessels and encouraging them to visit.
"For two or three years I've been hitting my head against a brick wall to try and get somebody to actually understand what we're missing out on to get owners and charter guests to come here," said owner Jeanette Tobin.
She started the Westhaven-based business 12 years ago as a high-end concierge service and ship's agent for superyacht owners and their guests and crews. About 250 superyachts come into the Pacific each year and about half of those sail to New Zealand. Of those 90 per cent have some work done on them, ranging up to major refits.
Another luxury tourism operator, Ahipara Luxury Travel, which offers tailored experiences for the super rich, last week raised concerns about the promotion of New Zealand, saying the mass-market approach and concentration on The Hobbit was at the expense of pushing highly valuable niche tourism.
But a Tourism NZ spokesman, Chris Roberts, said that while the organisation spent $58 million on promoting New Zealand overseas this was stretched.
"What we definitely do is attend luxury trade shows ... Unfortunately spreading it to something as specific as a boat show is not something that we can afford to do."