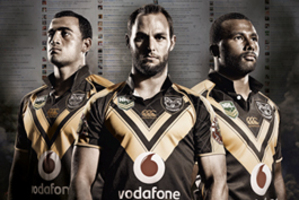 NRL rugby league starts this Thursday but two days out from the season kickoff there is still no guarantee they will be shown on Sky TV.
Sky and the NRL have gone down to the wire over a deal to screen NRL matches in New Zealand with hopes of a resolution today or tomorrow.
NRL is seeking a much bigger payment per season than the $14 million estimated last year. But Sky chief executive John Fellet says he is resisting anything that would hurt profits like the production costs for the Summer Olympics did.
Sky dominates New Zealand sports and pay television so has been presumed to have automatic access to big franchises like the NRL.
But Fellet said yesterday he was not clear whether there was another bidder for rights and this was the reason for the late resolution.
"We always work on the basis there are," he said.
After a one -year deal in 2012 Sky has been negotiating for five-year rights that would run concurrently with a five year deal for Australia's Fox Network and Channel Nine. That A$1 billion deal has led to higher prices for sports package consumers, said advertising commentator Martin Gillman.
Sky TV director of sport Richard Last said it was not the first time Sky sports rights negotiations had gone to the wire.
It had also happened with motor-sport rights.
Last said that advertisers had been kept informed the rights were not yet signed and sealed, and details of the season were not included on sport channel schedules.
Asked if demands for higher charges for rugby league rights might lead to Sky sharing delayed telecast rights with another free-to-air broadcaster to spread costs - such as TVNZ or TV3, Last said Sky would continue to have delayed telecasts on its own free channel Prime TV.