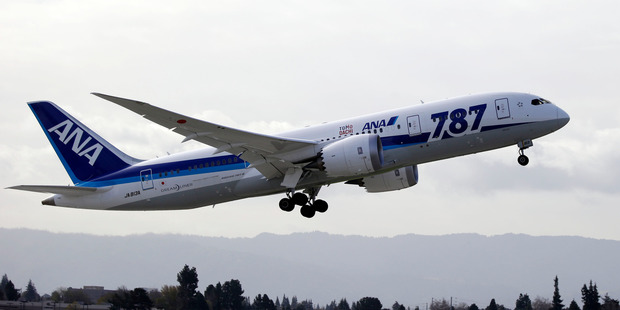 Air New Zealand remains confident it will get three Boeing 787 Dreamliners by the end of next year despite battery problems that have grounded the plane around the world.
The airline is scheduled to get the next model of the aircraft which is six metres longer than the current one being flown.
Being a variant of the current model means testing and certification should be quicker and although it hasn't yet flown Air New Zealand's new chief executive Christopher Luxon said production of the plane had started and he was confident the battery issue affecting other planes will soon be resolved by Boeing.
"They're feeling very confident about the right remedies for managing this issue. In our conversations with them the plan is to get some FAA approval in the next couple of weeks," he said following the release of the airline's first half results which included a profit of $100 million, more than double that of the corresponding period last year.
"If I was taking delivery of those aircraft within the next three to six months we might have some concerns but that is not our reality," he said
"We have been in constant close contact with Boeing in all levels of our business every week and we are reassured that there is no risk around production and the delivery timetable around the middle of next year."
Luxon said two Air New Zealand staff were in South Carolina this week where the 787-9 series are being produced.
"It is a real game-changing aircraft and it is highly innovative - while these issues are frustrating I'm very confident that they'll solve it."
The airline would likely use the planes on its Asian routes where the strong inbound leisure market where there was demand for aircraft with a higher proportion of economy-class seating than on North American routes.
The 787 has been plagued by delays and deliveries are already three years late.
Luxon said Boeing had paid the airline compensation but those payments remained "very much a private and confidential matter."
Air New Zealand announced today it would lease two brand new Boeing 777-300 aircraft next year, saying they were not to mitigate any 787 delay risk but to give the airline the option of retiring less efficient 747s and 767s or if demand existed, put on more services.
The airline is also upgrading its 777-200 cabins - including an extra line of seats - to bring in uniformity across its widebody fleet.