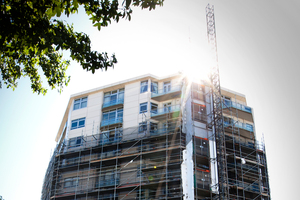 A leading portfolio manager says Mainzeal could emerge stronger under a new owner.
Brian Gaynor of Milford Asset Management said the receivership of Mainzeal Property and Construction was not surprising to him.
He said founder Richard Yan had promised much. "He came to New Zealand and everyone thought he was going to be successful," said Mr Gaynor, who is also a Herald columnist.
Richina - which bought into Mainzeal in 1995 - was once listed on the New Zealand stock exchange but delisted amid controversy four years ago.
Under Yan, Richina became too diverse with Asian ventures but had failed to take advantage of the booming Chinese economy.
Among Richina's other businesses listed on its website are a Waiheke Island winery, a leather tannery in Shanghai and an aquarium in Beijing.
Gaynor said former Mainzeal Group chairwoman Dame Jenny Shipley, who has been on the Richina board, was another example of a former politician being involved in a controversial business and this would worry potential investors in Genesis Energy, the state-owned enterprise she chairs and that is being prepared for partial sale, he said.
Mainzeal should have been riding a recovery in the construction sector but it remained a good company and would be attractive to buyers. A company such as Fletcher Building could get a good deal out of it.
"This won't die, it will be taken over by someone else. If I were a staff member I wouldn't be that concerned.
"I think it will be acquired by someone else and do a lot better under a new owner than it has under Richard Yan, Richina and Jenny Shipley."
Milford Asset Management did have a small holding in Richina but sold out around the time it was delisted.
Gaynor said Mr Yan had done well out of the company and "lived an amazingly wealthy life".
In a 2007 column, Gaynor said the company's performance has been abysmal under Mr Yan's stewardship but his salary had risen each year.
Mr Yan's total remuneration for the December 2006 year was US$866,000 ($1,226,000), compared with Richina Pacific's sharemarket value of only $68 million.