Scientists say foods rich in vitamin A will help combat diseases.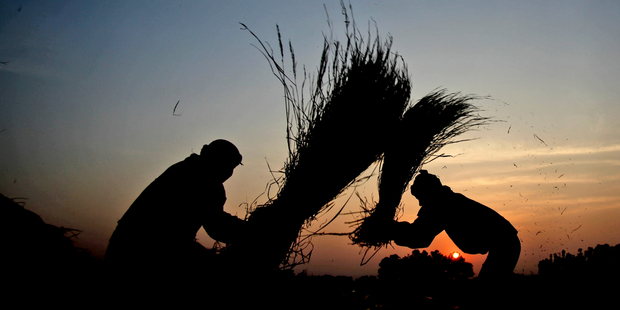 Scientists say they have seen the future of genetically modified foods and have concluded that it is orange or, more precisely, golden.
In a few months, golden rice - normal rice that has been genetically modified to provide vitamin A to counter blindness and other diseases in children in the developing world - will be given to farmers in the Philippines for planting.
Thirty years after scientists first revealed they had created the world's first GM crop, hopes that their potential to ease global malnutrition problems may be realised at last. Bangladesh and Indonesia have indicated they are ready to accept golden rice in the wake of the Philippines' decision, and other nations, including India, are considering planting it.
"Vitamin A deficiency is deadly," said Adrian Dubock, a member of the Golden Rice project. "It affects children's immune systems and kills around two million every year in developing countries. It is also a major cause of blindness in the third world. Boosting levels of vitamin A in rice provides a simple straightforward way to put that right."
Tests have revealed that a substantial amount of vitamin A can be obtained by eating only 60g of cooked golden rice.
But scientists' satisfaction over the Golden Rice project has been tempered by the fact that it has taken an extraordinarily long time for the GM crop to be approved. Golden rice was created late last century, but its development and cultivation has been opposed vehemently by campaigners who refused to accept it could deliver enough vitamin A, and who argued that the crop would make farmers in the developing world increasingly dependent on western industry.
The scientists reject this view. "We have developed this is conjunction with organisations such as the Bill and Melinda Gates Foundation as a way of alleviating a real health problem in the developing world," said Dubock. "No one is going to make money out of it. The companies involved in developing some of the technologies have waived their licences just to get this off the ground."
-Observer