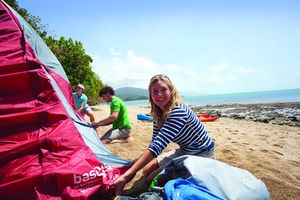 Kathmandu is getting closer to making a major move into new markets, says chief executive Peter Halkett.
The outdoor apparel and equipment retailer, whose shares climbed to a 13-month high yesterday on the release of a market update showing a big improvement in first-half trading, has indicated it plans to establish a presence in North America and Asia via online retailing.
"We're working to ensure we've got the capability to have websites in other countries as well as international shipping capability," Halkett said.
"We'll provide an update on our online plans when we do our formal half-year release [on March 26]."
At present Kathmandu operates websites only for customers in New Zealand, Australia and Britain, the three markets where it has bricks-and-mortar stores.
Halkett has said Japan, the United States and Canada - countries which, like Australasia, have many outdoor activity-focused consumers - are the "top prospects" for the retailer's expansion.
Milford Asset Management portfolio manager Mark Warminger said Kathmandu's plan to use the web to expand into new markets was a very "level-headed" approach that involved less risk than rolling out a network of stores.
In its trading update Kathmandu said strong sales during the first quarter of its current financial year, combined with a good performance through Christmas into January, meant the company was expecting a first-half net profit in the range of $9.5 million to $10.5 million, compared with $6 million a year earlier.
Shares closed at $2.30, up 9c, last night.
Same-store sales in the 26 weeks to January 27 rose 6.1 per cent on the previous year on a constant currency basis, while total sales rose 13 per cent to $165.8 million.
"Our sales in Australia have continued to grow at a faster rate than New Zealand, which reflects the continuing strengthening of the Kathmandu brand and market penetration in Australia," said Halkett.
He warned that Kathmandu's full-year profit relied heavily on second-half trading with more than 60 per cent of total earnings made during that period.
Matt Goodson, portfolio manager at BT Funds Management, said the trading update, particularly the growth in same-store sales, was encouraging and he was hopeful the company would be able to continue its momentum through the final half of its financial year.