NZRU working closely with US sponsors to generate more income from the famous All Blacks brand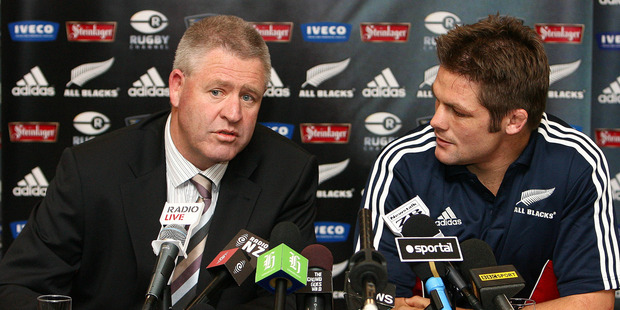 Rugby boss Steve Tew says his organisation is looking at more opportunities to get leverage from the All Blacks brand this year.
The New Zealand Rugby Union is working with staff from United States insurance giant AIG to explore ways both parties can capitalise on the sponsorship.
The AIG deal, which has unofficially been put at $80 million over five years, was announced last October and resulted in the insurer's logo controversially being put on the front of the All Blacks' and other New Zealand teams' jerseys.
Tew said late last year the union was still in the early days of its relationship with AIG but would work on projects to make the most of it in keen rugby nations where the firm had a strong presence. A union staffer was working in AIG's head office for six months as part of a reciprocal deal.
"We're very pleased with the partnership - clearly there was a degree of nervousness and some people were not happy."
While there was some anger in social media about the game being sold out, there was no blazer burning - "not even virtually".
"We can't nurture it unless we have the revenue coming in."
The All Blacks brand has been extended to New Zealand Maori and the IRB Sevens World Series sides to broaden its reach.
Tew was at pains to stress the national team is not just about money.
"While we accept the All Blacks are a brand and a commercial entity, first and foremost they are a sports team. Some of our fans get a bit narked if we're just talking about commercial things like brands - they think we lose sight of the fact that it's a sport, we don't."
As current "guardian" of the game, the NZRU's most important task was to ensure the pipeline of players and coaches remained strong.
Last year the union entered into a joint venture with British-owned All Blacks Tours to exclusively provide official All Blacks supporters' travel, replacing Williment Sports Travel.
The new firm is owned by sports hospitality firm Sodexo and the Mike Burton Group and the union will get a proportion of profits.
More ventures were under investigation but for every 10 ideas only one would typically be acted on.
"You can look at hospitality, you can look at tourism where we might take the All Blacks brand but we'll do that incredibly carefully."
The union, owned by its co-operative members - 26 rugby unions - was risk averse, said Tew.
He said the co-operative set-up and the conservative accounting that went with it meant there was no official brand value attached to the All Blacks.
However, global specialist Brand Finance in 2011 put the value of a World Cup-winning All Blacks side at $108 million, putting them on the fringe of Europe's top soccer sides, although still dwarfed by Manchester United, then with a brand value of $720 million.
Annual revenue of around $100 million-$110 million-plus was made up roughly equally by broadcasting, sponsorship and licensing and gate revenue and match fees.
"We would like that figure to increase reasonably steeply. The biggest opportunity we have is in broadcasting rights, which will crank up later in 2013."
Signs were good for the broadcasting deal - which runs until 2015 - as in many markets the value of sports content rights had increased markedly, including in the UK where British Telecom had bid for both soccer and rugby.
BT Vision is emerging as a serious rival to BSkyB as Britain's premium sports broadcaster. The company is paying close to $2 billion to become a major player in soccer and rugby.
Tew said the biggest development was likely to be different platforms to distribute rugby, including tablets and smartphones.
The adidas deal will have been worth about $500 million over 20 years when it expires in 2019.
A good part of the adidas and AIG sponsorships was hedged at favourable rates given the continued strength of the New Zealand dollar.
Tew said one of the biggest challenges was finding ways to ensure international fans became customers.
The side had two million fans on Facebook, most overseas, but it was mainly the New Zealand core fans who paid to watch the All Blacks live or on television and bought licensed products.
Another challenge was getting the balance right between maximising the commercial benefits players could bring by working with sponsors and ensuring they rested.
"The reality is that we are working our players on and off the field at their maximum - you can't get the balance wrong between performance and commercial work."