Ripe outside, tasteless within. Somewhere in the food chain, something's wrong.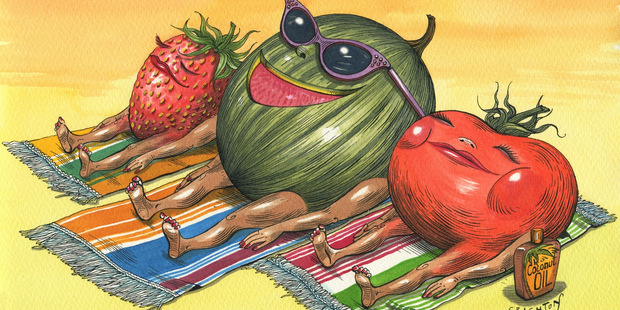 At the risk of sounding like a complete crustafarian, please allow me to recount one of the happiest memories of my childhood, some 30 (mumble mumble) years ago.
It's a story of summer, yes, but more specifically the fruit. The fruit! What a joy it was to eat summer fruit back then. I remember places where you could pick berries by the bucket (which quickly broke). There were melons that were red inside. Tomatoes that could actually be turned into pasta sauce. And eating our weight in strawberries as we picked them for $3.50 an hour. It was an orgy of juiciness and gastric distress.
Near us there was a nectarine orchard where you could fill a bucket for $5. I have tried, over this summer, to impart my love of nectarines to my own children and failed miserably. Quite fairly, they have little interest in fruit that is picked when it still has the consistency of concrete, takes weeks to soften, and then tastes like the Generic McPlainwrap of the fruit world. If it ever ripens.
Most of what I have bought has gone from the consistency of a clay pigeon shooting target to frankly rotten without passing through the merest window of eatability.
And it's not just nectarines. I will have to have Botox now, I suspect, to fix the new crow's feet caused by the wincing, pursing and puckering I have done while sampling tart blueberries, sour apricots and frankly past-it peaches. My husband almost broke a two-year moratorium on drinking alcohol when he bit into a melon so fermented it would have made him fail a breath test.
(In fact, I was instrumental in breaking my husband's teetotal ways when I inadvertently bought him and my three very young children highly alcoholic ginger beer, only realising my mistake as they rolled around gagging after imbibing the stuff.)
My ginger beer faux pas was a case of buyer beware; I obviously hadn't "bewared" enough. But I won't take responsibility for all the bad fruit I have bought. It looks fine to the eye - the prices are eye-watering enough - but it is not until you are home and chowing through the packet that you realise half the cherries are rotten, the watermelon is largely white inside, or that the nicest strawberries have been packed facing the consumer, cleverly hiding their green, unappealing cohorts.
I am loath to blame the growers. Quite rightly, they send their best stuff to where they will get the best returns; about 60 per cent of the total harvest of fruit and veg goes offshore, earning them over $2 billion a year. I assume the rest is still perfectly edible, even if it doesn't have the precise dimensions of that sent to Japan or Korea.
Which can only mean that the retailers are doing something wrong. While it is true that you should probably be buying fresh, seasonal, organic produce from a farmer's market and many do, you should also expect that the produce you buy from supermarkets and greengrocers will pass muster - especially for the prices charged.
Hopefully nectarines, apricots and peaches won't end up going the way of tapioca pudding and saltwater taffy - things that, in the dim distant past, actually tickled the tastebuds of young and old.