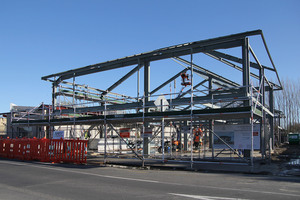 New Zealand's external accounts improved slightly in the September quarter, but only because of lower profits earned by foreign-owned companies.
The current account of the balance of payments recorded a seasonally adjusted deficit of $2.5 billion, $300 million smaller than in the June quarter.
The balance on goods was a surplus of $220 million, even though exports, boosted by recorded dairy volumes, grew less than imports, swollen by higher oil imports.
The balance on services was a deficit of $300 million, increased by higher insurance premiums.
The quarter's investment income deficit was $2.2 billion, $570 million less than the June quarter, mainly reflecting a $400 million drop in earnings by foreign-owned corporates and banks in New Zealand. Two-thirds of their profits were reinvested.
For the year ended September the current account deficit was $9.9 billion, equivalent to 4.7 per cent of gross domestic product, a small improvement on the 4.7 per cent recorded in the year ended June.
However, economists expect the deficit to widen as the rebuilding of Christchurch gathers pace.
The Treasury forecasts released on Tuesday have the current account deficit widening to $16 billion or 6.5 per cent of GDP by 2017.
The cumulative effect of decades of current account deficits is a net international investment position $148 billion in the red.
That is equivalent to 71.2 per cent of GDP and is temporarily flattered by $11 billion of reinsurance claims yet to be settled, which count as foreign assets in the accounts. Excluding them the stock of net foreign claims on New Zealand would be equivalent to an internationally conspicuous 76 per cent of GDP.
ASB economist Jane Turner said the private sector, largely via the banking sector, was reducing its net international liabilities while the Government was increasing its liabilities.
"The private sector is continuing to live within its means while the Government is still several years away from stabilising its debt position," she said.
Bank of New Zealand economist Doug Steel sees September's smaller deficit as a pause in a trend deterioration.
"We continue to anticipate a wider current account deficit over the coming year, a result of investment outpacing domestic saving. We forecast the deficit to push through 6 per cent over the coming year," he said.
"An interesting question is, as the deficit expands, whether financial markets and the rating agencies will remain as sanguine as they currently are."