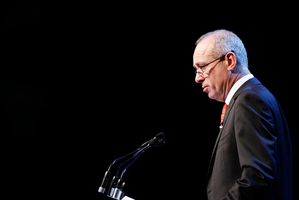 Fonterra's Trading Among Farmers (TAF) share trading scheme received its final, albeit retrospective, seal of approval at the annual meeting yesterday.
When TAF was put to shareholders at a meeting in June, the first resolution, which required a simple majority, received 66.45 per cent support. The second part - for constitutional changes to Fonterra - needed 75 per cent support but achieved just 72.8 per cent.
The Fonterra board decided to plough ahead with TAF anyway, seeking to enshrine the change at yesterday's meeting. As it turned out, the second part of the vote received an almost ringing endorsement, with 89.5 per cent support.
Units in the fund, which give investors access to Fonterra's dividend flow but do not confer voting rights, have been a phenomenal success since their debut on November 30.
At yesterday's traded price of $7.01, the units were at a 27.45 per cent premium to their $5.50 per unit issue price.
Outgoing chairman Sir Henry van der Heyden told the annual meeting that decisions made by farmer shareholders since Fonterra's inception in 2001 had laid a durable foundation for the co-operative's future growth and profitability.
"It's been one huge year after another and every one of them has made us stronger," he said. "Together we've turned a collection of co-ops into the world's top dairy exporter."
He said creating Fonterra was a "massive leap of faith" on two levels.
"We put our faith in a single integrated model and we put our faith in it succeeding in an entirely deregulated market," he said. "I can say without a shadow of a doubt that we pulled it off."
Van der Heyden said global demand for dairy products was stronger than ever and growing.
Fonterra would also focus on cutting about $60 million in costs out of the business this financial year.
Shareholders voted to re-elect incumbent directors John Wilson and Nicola Shadbolt to the board.
They will be joined by a new director, Blue Read, a former chairman of the Fonterra Shareholders' Council.
Read, 57, lives and farms near Urenui in northern Taranaki. As expected, the meeting confirmed Wilson as the new chairman of Fonterra.
- APNZ