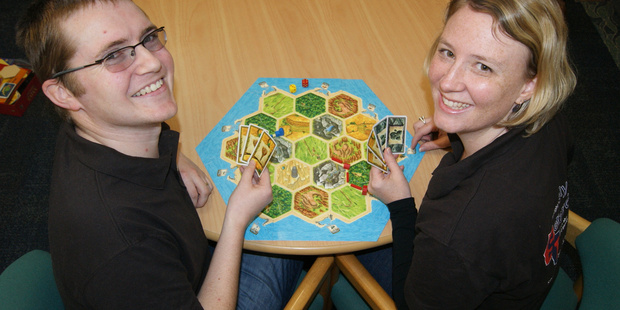 David Taylor is the co-director of online board game retailer SeriouslyBoard.co.nz, and the co-founder of board game community events Board Games By The Bay talks to Gill South about setting up a boardgame business.
Board games have come a long way in the last 15 years. Once simple roll-and-move experiences that were the domain of children and few others, modern board games now feature a vast array of themes, game mechanics, beautiful artwork, and social encounters that appeal to adults, too.
Tips for game designers:

Playtest, Playtest, Playtest
Having interviewed award-winning and professional board game designers, I hear no recommendation more often than the need for repeated play-testing. Having other people play and actively attempt to "break" your design is the most effective way to discover weaknesses or oversights and to improve the overall gaming experience.
Don't get your friends to do it. You need hard-nosed, neutral (and potentially anonymous) people putting your game to the test.
Research And Development
Ideas are the easy part. Execution of those ideas is much harder. Familiarise yourself with modern board games. Head down to your local store and ask them about different games and find out which ones are popular. And play every game you can get your hands on. This will help you find ideas that have worked for other designers which might also work for you.
Join The Revolution
There are literally hundreds, if not thousands, of other game designers out there, and with the benefits of the internet, networking is easier than ever. Connect with designers to explore opportunities and to learn from the mistakes of others. Join a gaming group in your area or contact us at SeriouslyBoard. Contact the New Zealand Games Association for advice and contacts. Sign up to BoardGameGeek - and don't let the website's name scare you away.
Established Publisher vs Going It Alone
If you're convinced you've got a winner, there are two options to get it out into the world: you can get it picked up by an established publisher, or you can produce it and market it yourself. The former takes away the financial risk but means you'll get a smaller cut. The latter involves a lot of hard work and knocking on doors, but you'll get a larger slice of the pie. One option for self-publishing is using a crowd-funding website like PledgeMe, enabling you to limit the amount of upfront capital required.
Getting games manufactured isn't a cheap process, either. Local companies will usually charge more than some overseas options, but they lack the risk of a costly mistake resulting from design instructions being lost in translation. When you reach the prototype stage, you can get components from Spiel Material and The Game Crafter. If you want to stay local, get in touch with these guys.
Match The Market
Finding a suitable price for your game can be tricky. If it's picked up by an established publisher, they'll take care of that side of things, but if you're the one footing the bill, it can be tempting to overprice in a bid to get a return on your investment. There's no hard science to pricing, but the best piece of advice is to compare like for like, because prospective buyers will be doing the exact same thing. Find another game with similar production values and try to match its price.

Don't Give Up
Board game design is tough, and for the vast majority of people who give it a go, it doesn't pay much. But you just never know - that prototype you've had gathering dust for the past few months might just be a few tweaks away from being the next big thing. Good luck!
Next week: the Christmas rush - for many SMEs this is the busiest time of the year. How have you prepared yourself for the silly season? What did you learn from last year? Email me, Gill South at the link below with your stories: