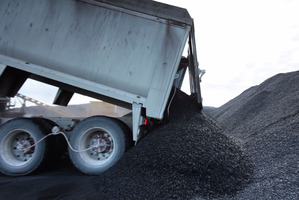 The West Coast Conservation Board has launched a last gasp bid to save the Denniston Plateau from mining, even as an open-cast coalmining bid is being fought out in the Environment Court.
Australian-based Bathurst Resources wants to mine 148ha of the southern end of the plateau, although that is subject to appeal from environmental groups.
The conservation board, which was meeting today in Franz Josef Glacier, has formally started the process of requesting the Department of Conservation to investigate classifying the Denniston Plateau as an 'ecological estate'.
Chairwoman Clare Backes said it could then be evaluated for inclusion into schedule four of the Crown Minerals Act for complete protection from mining.
She noted that Buller Coal (Bathurst) had a large number of mining permits throughout the region and was not restricted to the plateau.
Solid Energy also had licences in the area but was not currently pursuing open-cast mining there.
At the moment, the Denniston land is classed as 'stewardship' which gives it "very little protection".
Dr Backes said that although parts of the plateau had been mined in the past, that was by underground mining.
DOC had run an extensive mapping programme of the plateau and found it was home to four ecologically rare ecosystems.
"The West Coast Tai Poutini Conservation Board is not against mining per se, but it does think that areas like the Denniston Plateau with such high conservation values should be protected," she said.
Minerals West Coast general manager Peter O'Sullivan said the area had always been identified as State coal reserve.
The conservation values of the plateau were being thoroughly investigated through the current Environment Court process.
But Forest and Bird top of the south field officer Debs Martin welcomed the move by the conservation board, saying it was never too late "until something has been mined".
"It's fantastic the board recognised its values and it's asking the Conservation Authority."
- The Greymouth Star