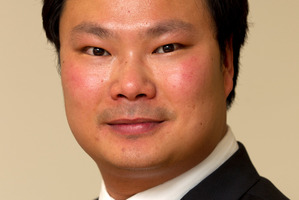 Singapore Airlines - into its 37th year flying into New Zealand - is sticking to its knitting.
Edwin Chiang, the airline's new general manager for this country, said in spite of uncertain times facing aviation and the proliferation of low-cost carriers, Singapore was committed to its three pillars, product, developing its network and service.
It has just announced firm orders with Airbus and Boeing for 60 new aircraft worth $14.4 billion over the next five years and the revamp of its first and business-class cabins as it refreshes its fleet's seats and entertainment.
The airline is seen as a bellwether for the state of full-service legacy carriers and its results have been mixed over the past few years as it battles high fuel prices and soft demand, compounded by the emergence of more budget carriers in its Asian regional market and rapidly growing Middle Eastern operators providing greater competition for long-haul premium passengers.
Full-year profits last year slumped 69 per cent to $300 million year-on-year due to high oil prices and global instability. Chiang said the airline's performance in New Zealand reflected this.
Last year was rocky because of natural disasters affecting inbound traffic and the Rugby World Cup discouraging Kiwis from travelling abroad.
"We're seeing some improvement," Chiang said. "There was a point in time when people had the wrong impression that the whole of the South Island was shaking."
First and business-class cabins were where airlines made their serious money and demand was coming back across Singapore's network.
"The premium demand is at least neutral compared to last year, so we're quite bullish."
Passenger marketing manager Murray Wild said he, too, had noticed an improvement this year.
"It's fair to say it's not gang-busters but compared to where they were two years ago it's come back significantly," he said.
But the economy-class market remained price-sensitive and to help stimulate this, it had launched advance fares starting at about $2200 for flights to Europe, the main destination for Kiwis.
Chiang, an economics graduate, began his career with Singapore 12 years ago and had stints in its head office, India, Japan and Egypt during the chaos of the Arab Spring uprising. He spent his honeymoon in New Zealand seven years ago and said he welcomed the chance to return.
Freight losses hit quarterly profits
Singapore Airlines reported a worse-than-estimated 54 per cent drop in its latest quarterly profit, after losses at its freight arm tripled.
The carrier plans to park one of 13 Boeing 747 freighters for more than a year as it contends with slower trade and competition from Middle East carriers. Operating cargo losses jumped to S$50 million ($49.4 million) in the quarter ended September, according to Bloomberg.
Earnings at the main airline unit fell 5.6 per cent to S$84 million. Passenger numbers rose 5.1 per cent to 4.5 million.
Like other airlines, Singapore is strengthening ties with other carriers, announcing last week that it was buying a 10 per cent equity stake of Virgin Australia.