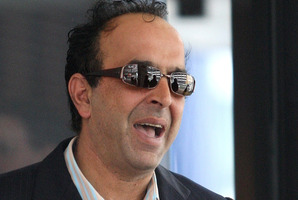 Documents about an alleged conman were passed to a Serious Fraud Squad investigator at a meeting in a marina carpark, a court has heard.
Loizos Michaels has denied 31 charges of deception brought by the Serious Fraud Office (SFO) relating to $3 million of alleged fraud.
Eric McCall told Auckland District Court today that his family owns a furniture business which sold up to $35,000 worth of furniture to Michaels for his Greek Restaurant on Ponsonby Rd.
Mr McCall said he agreed to let Michaels use his bank account and email address because he hoped that would increase his chances of getting his money back.
Despite being offered Michaels' BMW and a replica of the Dodge Charger car used in the Dukes of Hazard TV show, Mr McCall said he never got his money back.
After losing contact with Michaels he "physically bumped into" Jeremy Phillips who had done some building work at Michaels' restaurant.
Mr McCall told the court he spoke to Mr Phillips about contacting the SFO.
"He was also having frustrations with Michaels."
Mr McCall said Mr Phillips explained how he had been lumped with a $15,000 bill for Michaels' BMW and was being chased by debt collectors.
But Mr Phillips also had Michaels car and inside the boot were a lot of Michaels' documents.
Mr Phillips said he didn't want to get involved with the police so Mr McCall offered to arrange a meeting.
Mr McCall said he picked up an SFO investigator and drove to the Westhaven Marina carpark where they met Mr Phillips who handed over a briefcase full of documents.
Earlier, the court heard how Michaels used the replica Dukes of Hazzard car as security on a debt to Mr McCall, despite the car not being registered to him or his company.
Mr McCall said he told Michaels his brother owned a furniture company and may be able to help with fitting out the restaurant.
The deal went ahead and Mr McCall and his brother were due to get their money when the furniture was delivered.
But when it arrived Michaels told Mr McCall he didn't have his chequebook to pay the bill, which was between $32,000 and $35,000, the court heard.
"That's what he told me but said: `don't worry, I'll pay you online'," Mr McCall said, adding that the money never arrived.
Mr McCall said he tried a number of times to recover the debt and frequently stopped by Michaels' restaurant Plato's.
He said Michaels often spoke of his connections to a high-powered Macau casino family and their planned takeover of Auckland's SkyCity casino.
Mr McCall said Michaels offered his silver BMW as security but Mr McCall's brother declined.
"My brother said: 'We run a furniture company, not a car dealership, so it is not acceptable'."
But Mr McCall said he did accept a replica of the car used in the Dukes of Hazzard TV show, a Dodge Charger.
"I was asked to put it in storage because it was very valuable. After storage fees amounted for a period of time, it turned out that none of the vehicles were registered to Michaels [or the restaurant]."
Mr McCall has also given evidence about allowing Michaels to use his email and National Bank account as a conduit. He said he believed doing so made it more likely that Michaels would pay him back.
He told the court a payment from one of Michaels' investors for more than $49,000 was deposited into his account.
Mr McCall said Michaels drove him to a National Bank branch in Henderson where he withdrew all the cash the bank had - more than $24,000 - before they drove to the Newmarket branch to withdraw the balance.
Under cross-examination from Michaels' lawyer Peter Kaye, Mr McCall denied he had kept the money.
Mr McCall - who told the court he had been working in computers for more than 30 years - also denied manufacturing the emails which have been presented in court.
- APNZ