Boaties, bach owners and marine farmers must reach balance: Aquaculture NZ chief.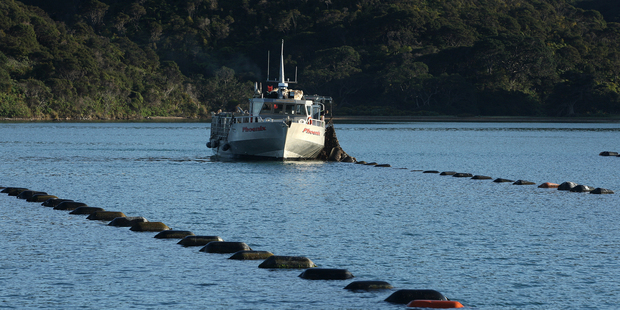 A balance has to be found between the needs of bach and boat owners and of marine farmers, says Aquaculture New Zealand chief executive Gary Hooper.
The $400 million aquaculture industry - which is aiming to hit an annual revenue of $1 billion by 2025 - will gather in Nelson this week for its annual conference, the theme of which is "sustainable growth".
"People need to better understand that water space is a common resource and the New Zealand Government has to work out how it best applies that resource for the benefit of the whole country," said Hooper. "There's a bunch of people in New Zealand who - if they've got a boat or a launch or a yacht - think it's their divine right to sail into any bay, anywhere in New Zealand, moor up and not have anything in their way.
"Or indeed someone who buys a bach somewhere - in their minds they haven't just bought the bach they've bought the 360 degree vista, but of course they haven't paid for all that."
Hooper said he was all for marine reserves and conservation.
"But we're still a country that needs to grow its economy and aquaculture has this tremendous potential to contribute to that," he said. "Balance is key.
"It's not just a lofty aspiration - it's an assessment that's had some economic rigour applied to it."
Hooper said reaching the realistic $1 billion mark required securing additional water space, increased productivity and exporting more value-added products.
Frozen greenshell mussels were 97 per cent of the exports of that shellfish last year, while smoked and crumbed/battered mussels accounted for just 0.05 per cent, according to Aquaculture New Zealand figures.
"Historically, some of the ways we've sold our product has been at the lower-value end - we haven't been chasing those higher premiums and niche channels and markets," said Hooper.
He said high-value derivatives of farmed fish and shellfish, such as omega 3 capsules and ingredients to complement other foods, were a growing part of the industry.
"These are massive catagories overseas. We happen to be growing some of the best core ingredients that can feed into those markets."
Expanding into new species - other than the mussels, oysters and salmon commonly farmed in this country - was another aspect of growing the industry.
Hooper said Oceanz Blue was already farming paua in Northland and Niwa was conducting research into farming hapuku and kingfish.
But it was also important not to lose sight of what we were already good at.
Hooper said New Zealand farmed salmon was recognised by international chefs as "the wagyu of salmon".
Wagyu refers to several breeds of cattle known for producing distinctively flavoured, fatty beef.
"Our salmon has that same taste difference," said Hooper.
New legislation aims to promote investment and reduce costs and uncertainty in aquaculture.