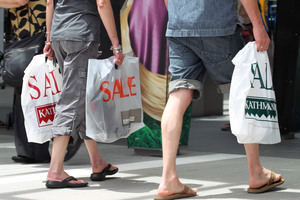 Retail spending charged to credit, debit and charge cards fell 0.6 per cent last month, seasonally adjusted, and by 0.9 per cent when petrol stations and car yards are excluded.
But that followed a very strong 2.7 per cent jump in August.
Within the core retail sector, the decline in sales was across the board, ranging from 0.3 per cent for durables, 0.6 per cent for consumables and hospitality, and 0.9 per cent for apparel.
Fuel sales, by contrast, rose 0.2 per cent, less that the 0.6 per cent increase in petrol prices.
ASB economist Christina Leung said while spending on durables fell last month it was still 2.8 per cent higher than a year ago.
"This improvement is in line with recent consumer confidence surveys, which point to increased optimism amongst households towards the purchase of big-ticket items," Leung said.
"Stronger housing market activity, particularly in Auckland, is likely to be underpinning this recovery," she said.
"Sales of durable goods such as electronics and furniture tend to increase in line with stronger housing demand as households look to furnish their new homes."
Overall the trend remained one of a gradual recovery in underlying household spending, Leung said.
The NZIER quarterly survey of business opinion released yesterday found retailers optimistic about the sales outlook over the coming months, particularly in Auckland.