Smallest rise at the median point since 1999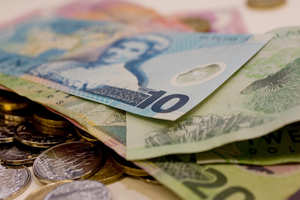 Statistics New Zealand's annual survey of incomes has detected little growth.
The median weekly income from all sources for an individual rose $10 to $560 in the year to June 2012. That is a rise of 1.8 per cent, or 0.8 per cent after inflation.
The median income from wages and salaries rose just $6 or 0.7 per cent to $806 a week, the smallest increase since 1999.
But the average income for wage and salary earners rose 2.7 per cent to $922.
The disparity between the median and the average indicates that those on higher incomes are getting bigger increases than people on lower incomes, Council of Trade Unions economist Bill Rosenberg said.
Income from government transfers rose $8 or 2.8 per cent to $288, reflecting a higher proportion of superannuitants.
At the household level, the median income rose $15 to $1304, an increase of 1.2 per cent or 0.2 per cent after inflation.
To be in the top income quintile, earning over $1120 a week, the best strategy would be to be male, European, late 40s and have a bachelor's or higher degree.
University graduates earned 47 per cent more than the rest of the population over 15.
A gender gap remains.
Median hourly earnings for women are 90.7 per cent of the level for men.