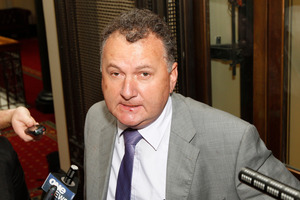 Northland Labour list MP Shane Jones is unhappy over the appointment of "three white guys" to lead the region's new economic development and tourism body Northland Inc.
"I'm annoyed about it. To develop the potential of Northland, you can't turn a blind eye to the significant presence of Maori," Mr Jones said yesterday.
The Northland Regional Council this week appointed David Caselli, James Parsons and Russell Shaw as directors of the council-controlled Northland Inc, formed to carry out the functions of Enterprise Northland and Destination Northland.
Enterprise and Destination Northland used to be run by the NRC Community Trust but ownership transferred back to the council in July to ease costs. At that time, Northland Port Corp chairman Colin Mitten was appointed to chair Northland Inc for two years and act as the new organisation's CEO until one was appointed.
Former NRCCT trustees Irene Durham, Bill Shepherd, Andy Britton and Rawson Wright remained as interim directors of Northland Inc but will be replaced on Monday.
Mr Shepherd told the Advocate he and the other interim directors had no input into the selection of their replacements but he had found input by Maori board members "incredibly valuable".
"Maori hold a huge amount of the untapped potential for economic and tourism development in the North which we [the NRCCT] have tried to focus on over the years," Mr Shepherd said. "I would have thought there would be some direct link with Maori business on the board."
NRC chairman Craig Brown said his council was fully aware of the potential for Maori economic development in the region, particularly with Treaty of Waitangi grievance settlements injecting millions of dollars into the North.
"They were selected purely on their commercial qualifications. Their race, gender or religious beliefs were not considered," Mr Brown said.
A fifth director is to be appointed and the NRC was looking for someone aged 25-40 who was a "rising star" in Northland business, who may be Maori.
But Mr Jones said the development of Northland was as much about relationships as it was about attracting international investment. Maori were significant owners of Northland's natural resources. It would be a joke for the "three middle-aged white men" to go into an investment environment and claim they had a vision for Northland without Maori input, he said.
For more articles from this region, go to Northern Advocate