20 staff and contractors from Newmont's Waihi operations to be laid off as costs surge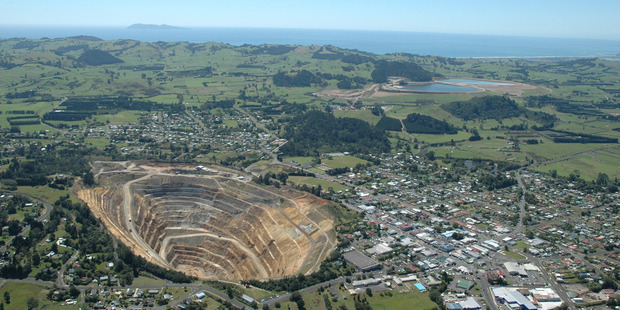 Fallout from rising mining costs has hit another small New Zealand town and the sector has been warned that commodity volatility could lead to more mining being put on hold.
Newmont Mining has announced it will next month lay off up to 20 staff and contractors from its Waihi operations as cost increases outstrip the price of gold which is near record recent highs.
On Monday state owned coal miner Solid Energy - hit by high costs underground as well as falling international prices - announced plans to axe hundreds of jobs at mines near Greymouth and Huntly.
And like other miners, Newmont is also cutting back operations in the United States and Australia. Across the Tasman during the past month BHP Billiton and Rio Tinto have laid off hundreds of staff at some projects and scaled back billions of dollars in development plans.
Newmont says gold production at Waihi is 30 per cent down this year at a time when costs are continuing to rise ahead of a planned $250 million mine expansion programme.
New projects to mine beneath the 250m open pit in the centre of town and 350m below houses to the east are now moving through the consent process.
"Our cost per ounce has been going up far faster in the past five years than the price of gold has gone up. Margins have come down and it's put a huge squeeze on the business - we just can't afford to continue at this level," said spokesman Sefton Darby.
Like manufacturers and other commodity producers the company was also struggling with the impact of the high New Zealand dollar.
'When most of our costs are in New Zealand dollars and our gold price is in US dollars our margins aren't what everybody thinks they are.
Labour, steel, concrete, chemical and truck purchase and maintenance costs had soared. Single truck tyres which cost $20,000 three years ago now cost $40,000, Darby said. "This has been the problem we've faced - you never see gold costs reported."
Gold reached a record US$1921 an ounce last September but was yesterday trading around US$1763.95 an ounce. Darby said production from Waihi was likely to be around 70,000oz this year. "On a good year we used to average 100,000oz so it's a major hit for us."
Craigs Investment Partners broker Peter McIntyre said his firm was forecasting gold going beyond the $2000 mark next year and this combined with a possible lowering of costs could ease Newmont's pain.