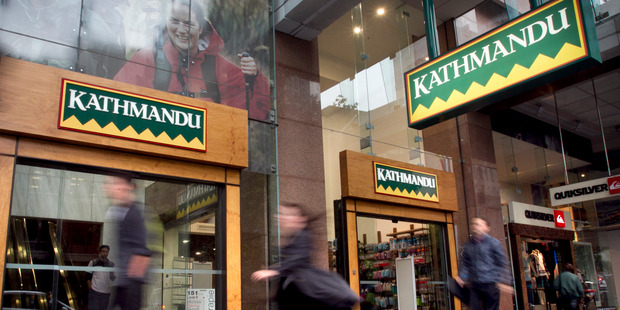 Kathmandu posted an 11 per cent decline in full-year profit as its gross margin shrank though the results showed an improvement in second half trading and the outdoor equipment chain said it expects a better performance in 2013. The shares gained 5.9 per cent.
Profit fell to $34.9 million, or 17.2 cents a share, in the 12 months ended July 31, from $39 million, or 19.2 cents a year earlier, the Christchurch-based company said in a statement. Sales rose 13 per cent to $347 million. Same-store sales rose 5.7 per cent.
The full-year results highlight a better second-half performance after first-half profit plunged 43 per cent as competition for retail dollars squeezed margins.
Chief executive Peter Halkett said the company expects "an improvement in performance in FY13" provided there is no further deterioration in economic conditions.
"It's a good result. They had a difficult result in the first half - the thing about retail is your costs don't change much between halves but sales can be completely different," said Matthew Goodson, a portfolio manager at BT Funds Management.
Kathmandu "makes a lot of their money from several of their massive sales events" and those tend of be at the mercy of external factors including the weather, Goodson said.
The shares rose 10 cents to $1.80 and are up just 1.2 per cent this year. The stock is rated 'hold' based on the consensus of 11 recommendations compiled by Reuters. The company will pay a final dividend of 7 cents a share, making 10 cents for the year.
Kathmandu counts Australia as its biggest market and sales across the Tasman climbed about 16 per cent to $214 million, or about 62 per cent of total sales. Same-store sales in Australia grew 6.5 per cent.
New Zealand sales rose 14 per cent to $126 million, or 9.2 per cent on a same-store basis. Sales in the UK fell 7.7 per cent to $7 million.
The company's gross profit margin shrank to 63.2 per cent from 65.5 per cent in the previous year. It said this mainly reflected costs of a new loyalty incentive for its Summit Club members, who are entitled to discounts and other special offers.
Operating costs rose to $153 million from $129 million. Total inventories rose 36 per cent, which the company said mainly reflected "investment in product range growth and earlier deliveries of new season product."