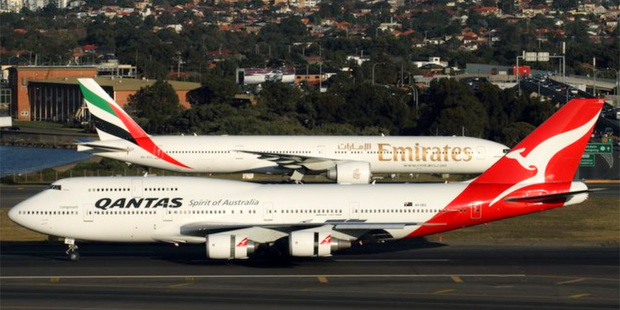 A new global partnership between Emirates and Qantas touted as improving Australia-to-Europe links could lead to the rationalisation of transtasman services, an analyst says.
The agreement will help Qantas to cut loss-making long-haul routes and focus on its profitable domestic flights and budget airline Jetstar.
The Australian airline will move its hub for European flights from Singapore to Dubai under the 10-year codesharing partnership, described by Qantas as opening a new era for global aviation.
The airlines say they "will also co-ordinate their respective transtasman services" offering improved schedules for flights to Christchurch and Auckland - including starting Emirates' daily A380 services between Melbourne and Auckland next month.
Craigs Investment Partners aviation analyst Chris Byrne said the Qantas-Emirates partnership was inevitable given the state of the Australian airline.
Last month, it announced a net loss of A$244 million ($313 million) - a half-billion-dollar reverse from a net profit of $250 million in the previous 12-month period.
Byrne said although there was little detail of the transtasman plans it was logical there could be further rationalisation there.
"There's been quite a bit of capacity on that route. Any rationalisation that Emirates and Qantas do has got to be good for everyone."
Byrne said there could be fewer flights but they would be fuller.
This would not necessarily mean increased fares as airlines had realised low fares were needed to stimulate the market.
Air New Zealand said last week it had load factors of 80 per cent across the Tasman while its competitors' planes were running at 60 to 65 per cent full.
"You don't have to put prices up and you've still got pretty good competition between Air New Zealand, Qantas, Emirates and Virgin," Byrne said.
Under the deal, Qantas will fly daily A380 services from both Sydney and Melbourne to London via Dubai. Qantas shares jumped 9c late yesterday at $1.22.