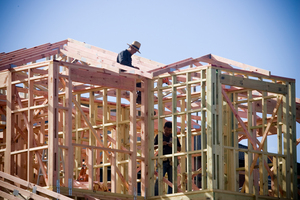 Business confidence held its ground in National Bank's latest monthly survey.
A net 26 per cent of firms expect their own activity to rise in the year ahead, up from a net 24 per cent last month.
The improvement was entirely seasonal, the bank's chief economist, Cameron Bagrie, said.
"We normally feel better as spring approaches."
It was flat-lining at a level bang in line with its average over the survey's history.
The bank's composite growth indicator, compiled from responses to the business and consumer confidence surveys it runs, was pointing to economic growth of 2.4 per cent by the end of the year, Bagrie said.
Firms' views of the general business situation lifted from a net 15 per cent positive in July to a net 20 per cent.
As a signal, a movement of 5 percentage points was so-so, he said. "Nonetheless we'll take it as a step in the right direction."
Profit expectations lifted from a net 1 per cent expecting improvement to a "still marginal" net 5 per cent.
But hiring intentions softened, to a net 6 per cent expecting to increase staff numbers over the year ahead from a net 11 per cent last month.
Investment intentions also eased, from a net 13 per cent to a net 11 per cent.
A net 17 per cent of exporters expect to increase volumes over the year ahead, up from a net 9 per cent last month.
"This looks reasonable on the face of it but it takes the level of optimism from dreadful to poor," Bagrie said, as the historical average for that indicator was a net 30 per cent positive.
The outlook for construction has brightened noticeably, however.
A net 47 per cent expect an uplift in residential investment, up 19 percentage points on July, while commercial investment intentions rose 18 points to a net 22 per cent positive.
The survey's inflation gauges continue to move in the right direction from the Reserve Bank's point of view.
A net 16 per cent of firms expect to raise their prices over the year ahead, down marginally on July, while inflation expectations dropped from 2.5 to 2.3 per cent, the lowest this millennium so far.
"This affords the Reserve Bank the luxury of time insofar as tweaking the official cash rate is concerned," Bagrie said.