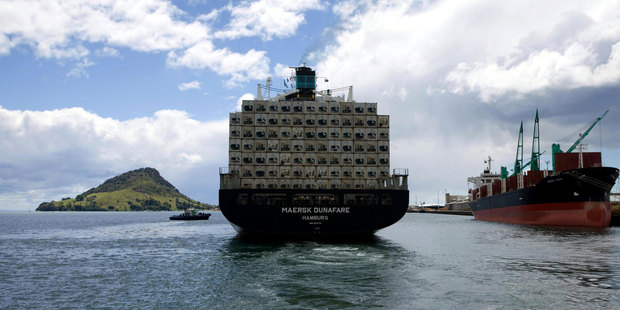 The Port of Tauranga celebrated its 20th year as a listed company with a 26 per cent increase in its annual net profit to a record $73.5 million, partly reflecting strong growth in freight volumes but also the extra business arising from industrial action at the Ports of Auckland.
The profit was about $2m ahead of market expectations.
Port of Tauranga, which is 55 per cent-owned the Bay of Plenty Regional Council, announced a final dividend of 27c per share, bringing the total payout to 39c per share, up 26 per cent compared with the previous year.
Container volumes through the port increased by 35 per cent to 796,024 twenty-foot equivalent units. Trade volumes rise 20 per cent to 18.5m tonnes from 15.4m.
Log volumes were up 11 per cent and dairy volumes were up 126 per cent.
The company said its net profit was more than 10 times the level achieved in 1992 - its first year as a publicly listed company.
The port said its group net profit had increased by 87 per cent since the global financial crisis, which started in July 2007.
The company's shares hit $12.25 on Tuesday, their highest ever point.
Total trade rose 20 per cent to 18.5m tonnes.
Freight traffic diverted to Port of Tauranga following industrial action at Ports of Auckland contributed just under a third of the increase in container traffic - which now represents nearly half of Port of Tauranga's total trade.
Export volumes rose 38 per cent to 426,391 tonnes from 308,739 tonnes.
Imports of oil products, bulk liquids, fertilisers and animal food supplements remained steady overall, with small fluctuations in volumes.
Chief executive Mark Cairns said the global economic outlook remained uncertain, but that he believed that earnings growth for the company would continue.
The first month of this financial year had shown continued growth in container and log export volumes, up on the previous year, he said.
- APNZ