Keven Mealamu's fast food franchise is on a go-slow, Jock Hobbs' development went under and now Zinzan Brooke has gone bust — and they are just a few of the professional rugby players encouraged to trade on their big names by starting small businesses. Celeste Gorrell Anstiss investigates the sport's bold plans to ensure the next generation of players have more career options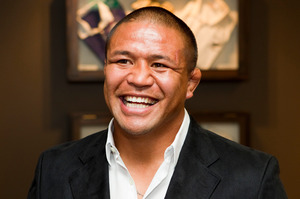 Marc Ellis remembers being gathered with his team-mates after training and the manager asking if they were keen for a financial planning session, offered by a sponsor.
Most weren't, but a handful of players signed up. Then the day rolled around and the sun was shining. The team decided to go for a game of golf. Ellis and Syd Eru were the only two who showed up to the professional development session.
It was the late-90s, the heyday of league and the early days of professional rugby. Cash and players slid easily between codes. The boys were earning big bucks and the Warriors carpark looked like a showroom for late-model V8s. But it would not last.
Ellis says plenty of his team devoted their lives to the game then discovered the party ended at age 30 - and they were without a trade, qualification or work experience.
"They live a very fast lifestyle where the wife and the kids enjoy all the perks, then all of a sudden the tap turns off," Ellis says.
For a kid straight out of school, it feels like they are made for life. "In reality, the sort of money they end with is enough to buy them an average house in Auckland."
The problem with a career in rugby is that for around half of the players, retirement is thrust on them when non-selection or injury ends the dream long before they plan to leave the game.
Most All Blacks, Super Rugby players or New Zealanders playing professional rugby overseas earn more than $100,000 a year; half report earning twice that. Few are able to maintain this income once they enter the general workforce.
A previously unpublished study commissioned by the New Zealand Rugby Players Association reveals 56 per cent of these players had to make do with an annual income less than $60,000 after they left the game.
Eighty-three per cent reported they were unemployed for some time after they retired; a third went through financial hardship.
Many ex-players also suffer from injuries and they experience arthritis at a rate four times higher than average. Some say they lose their self-esteem and confidence, many more feel like they lose their identity. A third report major anxiety and stress. Twenty per cent admit relationship issues; a quarter report substance abuse; 13 per cent report problems with aggression. Thirty-five per cent say they experience depression and feelings of despair.
Despite these challenges, retired sporting heroes have one stunning asset: a public profile. For some, that profile transforms otherwise ordinary businesses.
Ex All Blacks Buck Shelford, Christian Cullen and Jeff Wilson all ran successful pubs; Michael Jones brought the Carl's Jr burger chain to our shores; Robin Brooke and Eric Rush each own a New World supermarket; Blair Larsen bought a Pita Pit franchise. Andy
Ellis has won international awards for his landscape architecture and Marc Ellis pocketed a tidy $18 million when Asahi bought his fruit juice company, Charlie's.
All Black hooker Keven Mealamu announced two years ago that he and his wife Latea would open a Nando's franchise near their home in Takanini, South Auckland. "We have to look at life after rugby and stuff and we are really enjoying setting that up and getting it started," he said in an interview.
But the site Mealamu had his eye on was at Southgate Mall in Takanini. Instead, a former All Black, Michael Jones, opened the first New Zealand branch of the Carl's Jr burger chain at Southgate last year.
Mealamu's business plan is said to be "still in progress" - he was looking for a new site in central Auckland - but the Blues said a location and opening date were not set down.
Mealamu's venture is on a go-slow but other All Blacks have found the world of business more challenging still. Away from the publicity that surrounds All Blacks cutting the red ribbon at their shop-opening are those who crash and burn, losing their money or landing in court over fraud charges.
Zinzan Brooke and his wife, ex-cheerleader Alison Imm, were declared bankrupt last month, with six construction companies in liquidation. The couple have lived in the UK for more than a decade.
The B&B they run in the English county of Berkshire continues to trade - though the phone is mostly unanswered. "I can't really make any comment at the moment," Brooke says.
The quaint B&B, a converted two-storey Victorian villa, has 10 bedrooms with en suites.
Once their home, Frances Lodge was converted to a B&B by the couple, who are understood to own several properties. The couple, who have six children, now live nearby. They trade off the reputation Brooke earned in his 10 years playing for the All Blacks.
"After watching the muscle and brawn battling it out on the rugby pitch, what better than returning to your own luxurious space to unwind and enjoy the Windsor surroundings. This was Zinzan's vision when the idea for Frances Lodge was born," the Frances Lodge website says.
"Combining his knowledge of the building industry and the finer things in life, you are welcome to join him on the Frances Lodge pine decking for a fresh fruit breakfast smoothie."
But the website hasn't been updated since March, and business seems slow. Staff have been told their jobs are safe. The staff insist it's business as usual as the Brookes try to protect the B&B by liquidating other interests. "You can imagine it's a tough time for them," says one.
Another member of the 1997 All Black squad, Frank Bunce, was forced to fold his self-titled charitable foundation last year. Documents reveal all the money from its fancy fundraisers and a $500-a-seat gala ball had been sucked up by management costs.
Around 13,000 investors lost a collective $400m when Strategic Finance, headed by the late Jock Hobbs and five others, crumpled in 2008. Similarly, Sir Colin Meads' once-unassailable reputation was damaged by his paid-for endorsement of Provincial Finance, which failed in 2006, owing investors around $300m. In both cases, many of the investors were elderly people who lost their life savings.
Other sportsmen have been convicted for their business dealings: All Black-turned-chiropractor Dean Kenny billed ACC for non-existent treatment sessions. League stars Brent Todd and Hugh McGahan were convicted with ex-All Black Doug Rollerson for their part in an a scam in which fake invoices were used to defraud pokie trust money. Steven Pokere was jailed for defrauding 100 people, mostly members of his Mormon church, of nearly $4m.
Grahame Thorne, a 1960s All Black who was later elected to Parliament, says players are vulnerable when they retire because they spend their playing years insulated from the daily grind by the doctors, managers, trainers and administration staff who make sure everything is taken care of.
"They've never had to worry about anything," Thorne says. "They get put in a bus and taken to training, they get put in a bus and taken to the game, then they get put on the bus and taken to the airport where their passport is stamped for them and they fly first class. Then they retire."
Thorne was an All Black long before players were paid. Back then, players retired to make a living and support their families.
Now 66, Thorne runs the wine and chutney business Dogs Do Roam from his home in Central Otago. Like Brooke, he also has a bed and breakfast but he concedes it does not pay the bills. "It's hard to get the punters. Luckily, we have other sources of income."
New Zealand Rugby Players' Association chief executive Rob Nichol says mistakes were made in the early days of professional rugby, when players where expected to dedicate themselves to the game at the expense of other aspects of their life.
"Going back to 1999, there was talk that professional rugby players lacked leadership, lacked knowledge, lacked skills off the field," he says. "A lot of guys were train wrecks waiting to happen. But the more we looked at it, the more we realised they didn't lack the ability - they were being poorly led.
"They had people taking advantage of them, saying, 'let's do this property deal' or 'come, buy into my bar, let's conquer the world'. They put their money up then it all turns sour."
Nowadays, Nichol is determined to create well-rounded, street-smart rugby players. In the early 2000s the NZRPA placed a full-time staffer with each Super Rugby franchise, whose job was to support players off the field, helping with everything from relationship issues to financial planning and career guidance.
Up-and-coming players in the ITM Cup and development academies also come under the watch of these professional development managers, who work independently from team
management and are paid out of the Player Payment Pool.
The NZRPA database indicates 87 per cent of players are now undertaking meaningful career education or personal development outside rugby, a figure that Nichol says is evidence of a culture shift in professional rugby.
Wellington and Hurricanes players underwent numeracy and literacy tests this year - and 10 of them failed the basics. The results were so "startling", Nichol says, that he wonders if the players could actually understand their game plans.
"To be fair, it doesn't reflect well on the school system - some of them have not had good academic support at secondary school.
"They've been used as rugby players and chucked into the First XV but the beauty is we're making real attempts to identify where the gaps are."
Twenty-year-old Jake Heenan is one of the up-and-coming stars in Auckland Rugby's elite development academy. If all goes well for him, he might even be pulling on the No 7 jersey at the next Rugby World Cup.
But he is determined not to be blindsided by his promising career, and is studying towards a Bachelor of Applied Science and Biodiversity. The young player balances four papers (half the usual load) a year with as many as 15 training sessions a week.
"It's so far from rugby, it means I can get my head completely away from the game," Heenan says.
"It's hard work, the clash between games and exams is unbelievable. But Benny [the Auckland Rugby and the Blue's professional development manager Ben Meyer] is there to help when we need to rearrange things."
Other players under Meyer's watch are studying engineering, marine biology, architecture, law, philosophy, psychology and horticulture. Fourteen players are studying commerce, five are studying teaching. Just seven are doing courses around sport and recreation. Nineteen others work part or full time and three are business owners.
Around 15 are not currently working or studying but, as Meyer points out, that is not a bad hit rate - the Blues players train full time 10½ months of the year, making other commitments unviable.
Marc Ellis says Heenan has the ingredient that will get him through life once his rugby days draw to an end: a masterplan.
Now a successful businessman, Ellis is adamant education should be a priority.
"The greatest benefit of being an All Black is it opens doors," he says. "But if you don't make sense once you're inside that door you'll find there aren't many fools out there. They're not going to fall for the fact that you were once a rugby player."
- Herald on Sunday